Associated Press, Friday, 29 June, 2001
Taipei, Taiwan-- Taiwan's former president, Lee Teng-hui, challenged hundreds of Chinese students protesting his U.S. visit to return to the mainland and demonstrate against their repressive communist government.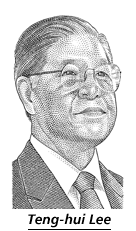 The retired leader made the comments Thursday to Taiwanese reporters on the campus of Cornell University in Ithaca, N.Y., where a research center has been named in his honor. Mr. Lee's remarks led newscasts Friday morning in Taiwan.
Chinese leaders have long considered Mr. Lee to be one of their worst enemies because they think he wants to make Taiwan an independent nation. Since the Communist Party took over China five decades ago, Taiwan has refused to accept Beijing's rule. China warns that the island must eventually unify or face war. Mr. Lee has never ruled out unification, but he has said China must be democratic before Taiwan rejoins the mainland.
More than 200 students from China protested Mr. Lee's Cornell visit and the school's decision to name the research center after him. Mr. Lee graduated from Cornell in 1968 with a Ph.D. in agricultural economics.
When asked what he thought of the protesters, Mr. Lee said, "I'd like to ask them: Where are you from? Why don't you go back and tell your own government that freedom and democracy are common world values?" He added, "Just look at the people in Beijing and how they're being bullied. They have no freedom at all."
The 78-year-old statesman has been nicknamed "Mr. Democracy" because he presided over Taiwan's rapid shift from authoritarian rule to democracy during his 12 years in office.
Mr. Lee also said that Taiwan should not be too worried about its high-tech companies moving their factories to China. Although political relations with China are tense, business ties are booming. Most of Taiwan's top electronics companies are interested in setting up factories in China, where labor and land are cheaper.
Mr. Lee said that Taiwan still has an important edge because the Taiwanese are more talented and innovative and China will have difficulty keeping up with them.