Monday, 21 May, 2001
By Jason Dean
Staff Reporter of THE WALL STREET JOURNAL
Taipei, Taiwan-- Taiwan President Chen Shui-bian heads to New York Monday for the first of a pair of planned stopovers in the U.S. that highlight a shift in Washington's attitude toward Taiwan -- one that is unsettling China's government.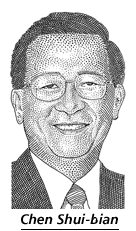 Mr. Chen will spend two days in the U.S. financial capital, where he plans to visit the New York Stock Exchange and meet with a procession of U.S. politicians before heading to Central America. On his way home, he will pass through Houston, taking in a baseball game and other Americana in President George W. Bush's home state with Rep. Tom DeLay (R.., Texas) as his guide. The itinerary is a far cry from past transits, when Mr. Chen and his predecessor were pressured by the U.S. to shun meetings or tours altogether to avoid angering Beijing.
For Mr. Chen, who departs on the first anniversary of his inauguration, the trip -- and the strengthening U.S. ties it represents -- is a bright spot in a troubled presidency. But the stopover is certain to rile Beijing, whose relationship with the new Bush administration is already off to a troubled start. Despite more than 50 years of separate rule, China claims Taiwan is merely a province whose leaders don't deserve international acknowledgment.
Anger in Beijing
Beijing is incensed about a U.S. offer to Taiwan last month of advanced weapons including submarines and destroyers -- the most substantial arms package for the island in nearly a decade. That decision, and President Bush's recent statement that the U.S. would do "whatever it took" to help Taiwan defend itself if China attacked, has been widely interpreted as sign of stronger support for Taiwan under the new administration.
Together with those developments, the greater freedom allowed Mr. Chen on his current trip "signals the Bush administration's intention to take the U.S. in a different line" on relations with Taiwan, says Shelley Rigger, a professor at Davidson College in North Carolina who has written a book on Taiwan politics.
Underscoring the strengthening ties, Taiwan's defense minister announced Saturday that the island has received clearance from Washington to test fire U.S.-made Patriot missiles first deployed in 1998. Minister Wu Shih-wen said the exercise next month will be the first time the Patriot has been tested anywhere outside the U.S.
When Mr. Chen last passed through the U.S., for one night in Los Angeles in August, he stuck to his hotel and under pressure from the U.S. State Department canceled plans to meet four U.S. congressmen. He will try to avoid the media spotlight this time as well -- it won't be easy with about 40 Taiwan reporters in his entourage -- but the other particulars of his visit are starkly different.
In addition to the symbolic importance of passing through New York and Texas -- past transits have been confined to the West Coast or Hawaii -- aides say Mr. Chen hopes to meet with as many as 20 U.S. lawmakers in New York, as well as Rudolph Giuliani, the city's mayor. He plans to visit the stock exchange and the Metropolitan Museum of Art before leaving Wednesday for a tour of five Central American countries with his delegation of senior government officials and businessmen, Chen administration officials say.
On his return, he will stop in Houston from June 2 to June 3, where his host, Mr. DeLay, has invited him to dine at the Taste of Texas steakhouse and watch a Houston Astros baseball game, they say.
Keeping Counsel
Officials in Taiwan are bracing for a harsh reaction from China, but Beijing's response so far has been relatively muted, a restraint some analysts say indicates China is still puzzling over how to handle the Bush administration. A Chinese foreign ministry spokesman last week criticized the trip, saying China's government "firmly opposes" such transits "under any excuse."
"China is still uncertain what kind of policy reaction to make" toward the changing U.S. approach toward Taiwan, said Lin Cheng-yi, director of the Institute of European and American Studies at government-supported Academia Sinica, one of Taiwan's top think tanks. Mr. Lin, who met with Chinese government officials and researchers on a trip there earlier this year, said China's response could unfold over several months.
At home, the better treatment Mr. Chen is getting from the U.S. can't help but burnish his image -- although how much so is unclear, given the island's obsession with its own domestic travails. Mr. Chen's first year as president has been beset by antagonism from opposition lawmakers and swelling unemployment, and his popularity has slid dramatically from the jubilation when he took office in Taiwan's first democratic transition of power.
Yet Mr. Chen has been careful to play down the U.S. transit, reflecting the pacifying approach to relations with China that many say has earned him favor with the U.S. government. Although China has refused to deal with Mr. Chen's government, he has said that the mere stability of that relationship is one of his most important accomplishments so far.