By Erik Guyot and Jason Dean
Tuesday, April 11, 2001
TAIPEI, Taiwan -- The continuing standoff between Washington and Beijing over the fate of a U.S. surveillance plane and its crew held on Chinese soil is providing a windfall for a hitherto low-profile party: Taiwan.
The 11-day diplomatic standoff is turning into a not-so subtle selling point for Taiwan-linked lobbyists who want the U.S. to sell the island advanced weapons, a move vehemently opposed by China. While Taiwan's government has assiduously stayed out of the fracas between its chief ally and its biggest rival, its allies and lobbyists in Washington are beginning to make their voices heard, and are likely to pump up the volume if the standoff isn't resolved quickly.
(Beijing on Wednesday agreed to release the crew of the U.S. spy plane.)
"It really makes our case easier," says Echo Lin, director of the Washington office of the Formosan Association for Public Affairs, a Taiwanese-American organization with close ties to Taiwan's ruling party. The group currently is lobbying Congress to support the sale of destroyers equipped with advanced Aegis antimissile radar. "Members of Congress are more aware of the hostility from the Chinese side."
Broad Contingent
Ms. Lin's grassroots group is but one member of a broad pro-Taiwan contingent that has a common aim of keeping Taiwan's concerns high on the agenda in Washington, even after the Hainan Island dispute is resolved. When the wealthy Kuomintang ruled Taiwan, the island's allies spent heavily on lobbying -- about US$7 million in 1999, according to U.S. Justice Department data. That flow appears not to have abated under the less-wealthy Democratic Progressive Party, which took power last May.
Much of the money for Taiwan's cause has come from groups without formal ties to the island's government. The Taipei-based Taiwan Studies Institute, for example, runs a Web site dedicated to promoting the sale of the Aegis antimissile system. The institute was founded by Lin Cheng-yi, a bank chairman and longtime friend of Taiwan President Chen Shui-bian. Mr. Lin raised funds from his friends to support the institute. Last July, it hired lobbying firm Cassidy & Associates for a one-year contract valued at US$2 million.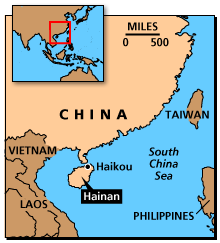 Officially, Taipei remains above the fray. President Chen expressed hope Monday that the diplomatic dispute wouldn't influence a U.S. decision scheduled this month on weapons sales to the island. He noted that the impasse "should be delinked from U.S. arms sales."
That is the fervent wish of many China watchers, who are concerned that intemperate outbursts from Taiwan's corner could upset the delicate negotiations between the U.S. and China for the release of the crew. Beijing regards Taiwan as breakaway province and is highly suspicious of Mr. Chen's administration, which it suspects of harboring independence aspirations. "The best thing Taiwan can do is stay very low key," says James Lilley, a fellow at the American Enterprise Institute in Washington and a former U.S. ambassador to Beijing.
Yet Taiwan advocates like Ms. Lin are less convinced of the virtues of silence. For now, with the U.S. Congress on holiday and negotiations over the fate of the air crew held on Hainan Island continuing, FAPA has been careful not to link the two issues -- to a point. "We don't want to use this to bash China," says Ms. Lin, "but we can use it to educate" people about China's military threat to Taiwan.
But Congress returns from its recess on April 24, and the longer the Hainan crisis drags on, the more potential supporters Taiwan gains. Republican Sen. Craig Thomas, who chairs a subcommittee on Asian affairs and who previously opposed the sale of Aegis, has indicated he might change his mind.
Growing Momentum
Although the decision on the arms sale lies with the administration, increasing support in Congress, especially from influential lawmakers like Sen. Thomas, reflects growing momentum in Taiwan's favor.
Lobbyists may gain more time to garner support for Taiwan. According to Joseph Wu, a professor at National Chengchi University in Taipei, the Bush administration may spread out its decisions over sensitive arms sales over a period of weeks.
Before Congress went into recess, Taiwan's allies lobbied heavily for U.S. representatives to send a letter on Apr. 3 to President George W. Bush supporting the Aegis sale. FAPA mobilized about 9,000 letters to U.S. lawmakers for that effort, which paid off with 83 representatives signing the letter.
The group is now gearing up to support a House of Representatives resolution sponsored by Rep. Robert Andrews, a Democrat, which contains tougher, potentially inflammatory language regarding antimissile defense. A draft of that resolution says that Taiwan has requested from the U.S. "coverage under the proposed Theater Missile Defense System." The Pentagon has repeatedly stated that an Aegis system isn't part of a proposed theater missile system, a loosely conceived U.S. plan to build a shield to protect against missile attacks from so-called rogue nations.