White Paper 2001 Regarding Taiwan's Safety and Security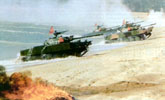 Washington, DC -- May 19th 1999. Nineteen organizations, representing the overseas Taiwanese community in Canada, Europe, and the United States, today issued a White Paper on Taiwan's Safety and Security.
This paper discusses how the safety and security of Taiwan affects peace and stability in all of East Asia. The Paper first gives a brief historical background, and then presents an overview of the Chinese military threat and Taiwan's defensive capabilities.
The Paper reiterates the appeal to the world community, that the overseas Taiwanese community and the people in Taiwan want their island-nation to be accepted by the international family of nations as a full and equal member.
The Paper is based on the premise that peaceful coexistence between Taiwan and China as two friendly neighboring states is the only way in which peace and stability in East Asia can be guaranteed, and urges China to renounce the use of force.
It is intended to signal that the people of Taiwan want peace and stability, but are determined to defend themselves when threatened.
It makes a number of policy recommendations, aimed at strengthening Taiwan's defensive capabilities. It suggests that -- in view of China's fast-expanding missile threat -- the United States and Japan must make it crystal clear that Taiwan will be included in the proposed East Asia Theater Missile Defense system.
It also recommends that Taiwan expands its anti-submarine warfare capabilities, in order to constitute a credible deterrent against China's massive submarine force, and that its air-to-air armaments and avionics be upgraded.
The Paper is the second in a series. The previous one, titled "White paper regarding Taiwan and its Future" was issued in November 1998. A revised and updated edition was published in September 2001.
Through these White Papers, the overseas Taiwanese want to promote a better understanding in North America and Europe of their homeland Taiwan, and to gain support for acceptance of Taiwan as a full and equal member in the international community.
The full text of the White Paper can be accessed in HTML-format or downloaded in Acrobat PDF-format.
---
For further information, contact one of the following organizations:
Formosan Association for Public Affairs (FAPA) 552 -- 7th St., S.E. Washington, DC 20003 Tel. (202) 547-3686 and Fax (202) 543-7891 http://www.fapa.org
Taiwan Communiqué P.O. Box 15182 Chevy Chase, MD 20825 e-mail: info@taiwandc.org Website: http://www.taiwandc.org
World Taiwanese Congress 4328 Sprucebough Dr. Marietta, GA 30062 U.S.A. -- Tel. (770) 642-8620 and Fax (770) 642-1126
World United Formosans for Independence (WUFI) P.O. Box 360315 Strongsville, OH 44136 homepage: http://www.wufi.org
Back to: Taiwan, Ilha Formosa home page