Taiwan Communiqué No. 97, June 2001
---
President Chen's travels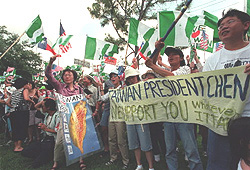 Chen welcomed by Taiwanese-Americans in Houston: "We support you, whatever it takes."
From 21 May through the beginning of June 2001, President Chen and First Lady Wu Shu-chen traveled to a number of countries in Central America on his second trip abroad since assuming office in May 2000. The President and his entourage made state visits to El Salvador, Guatemala, Panama, Paraguay and Honduras.
A major difference with his first trip abroad was that this time during his transit stops in the United States he was warmly welcomed, while in August 2000 the Clinton Administration kept him confined to his hotel (see Muzzled in LA, in Taiwan Communiqué no. 93, pp. 4-7). On his outbound flight, Mr. Chen landed in New York, where he met with a planeload of members of Congress, who had flown up to New York from DC to greet him, and with Mayor Giuliani, who referred to Taiwan as a remarkable country. The Taiwanese President was also given a personal tour of the New York Stock Exchange and made a brief visit to the Metropolitan Museum of Art. Below you find a brief report of this Welcome to the Big Apple.
On his flight back to Taiwan, president Chen visited Houston, where he was welcome by House majority whip Tom Delay (R-TX) who entertained president Chen and his wife at a Texas Steak House, and a Houston Astros baseball game, in a visit reminiscent of Teng hsiao-ping's 1979 visit to Texas after US-China normalization. On page five is a brief report in Houston, here I come.
Welcome to the Big Apple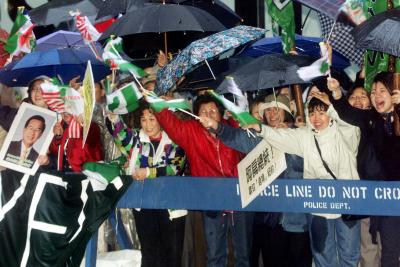 Chen supporters in New York: cheering in the rain
By Li Thian-hok. Mr. Li is a prominent member of the Taiwanese-American community living in Pennsylvania.
On Monday, 21 May 2001, some 1300 Taiwanese Americans stood in steady pouring rain near the corner of 50th Street and Madison Avenue, patiently waiting to welcome A-bian to New York.  They came mostly from the mid-Atlantic states, but some came from as far as Boston, California, Seattle and even Hawaii. They were cold, wet, tired and uncomfortable but cheerful.  After a drought of nearly a month, the rain was welcome but most discomforting on this particular day.
 People joked that Chen Shui-bian must have brought the rain.  After standing in the drenching rain for several hours, most people didn't even get a glimpse of the Chen's when they finally arrived at the Waldorf Astoria Hotel around 6:30 p.m. because the large crowd was squeezed into a small space and because the Chen's came out only briefly to wave to the welcome party from across Madison Avenue.
As A-bian acknowledged in his remarks at the reception for local Taiwanese Americans Tuesday night, the enthusiastic welcoming party was there not because of A-bian's good looks but because he represents the hope for Taiwan's future and he symbolizes the dignity of the Taiwanese people.
Unlike last year, A-bian and the first lady were treated with courtesy this time.  A-bian was able to visit the Metropolitan Museum and the New York Stock Exchange.  A-bian met with New York Mayor Rudolph Giuliani (who praised Taiwan as a remarkable country), former Vice President Dan Quayle, top U.S. corporate executives, and a delegation of over 20 Congressmen.  While this improvement in protocol is gratifying, A-bian should have been entitled to the same freedom of movement and open activity which ordinary foreign visitors to America enjoy.
At Tuesday night's reception and dinner, A-bian appeared full of vigor despite his lack of sleep.  His voice was firm and he did thank the Taiwanese American audience for the warm and enthusiastic welcome he received on Monday.  He gave a long-winded speech about his New York visit being a diplomatic breakthrough, his accomplishments during his first year in office, and assured the audience that his policies would always be "correct."
However, he could have mentioned the overseas Taiwanese's past contribution to the democratization of Taiwan and their ongoing efforts to protect Taiwan's security.  He could have emphasized the foundation of U.S.-Taiwan friendship, namely the shared democratic values.  He could have stressed the DPP government's resolve to defend Taiwan's freedom.  A-bian could have addressed the Taiwanese audience at least in part in the Taiwanese language.  He must have been aware that over 95% of the guests were Taiwanese Americans from the Eastern seaboard.  A-bian needs to raise the level of his speeches through better staff work.
In his speech A-bian kept referring to the homeland as the "Republic of China" and the people of Taiwan as Chinese.  Although Congressmen Benjamin Gilman and Tom Lantos, both members of the House International Committee, proposed the idea of inviting President Chen to address the U.S. Congress next year, such a visit will never materialize nor is Taiwan likely to ever become a member of the UN, unless A-bian learns to call Taiwan by its right name and refer to the people of Taiwan as Taiwanese, consistent with the language of the Taiwan Relations Act, the cornerstone of US-Taiwan relations.  Let us hope A-bian will do better next year.
Strengthening ties in Central America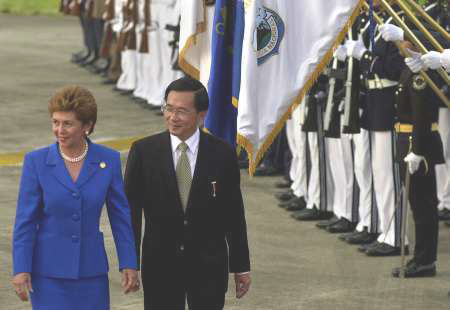 President Chen in Panama, inspecting the honor guard with Panamanian president Mireya Moscoso
During his 10-day swing through Central America, president Chen visited to El Salvador, Guatemala, Panama, Paraguay and Honduras. At his first stop, El Salvador, he attended a summit meeting with eight Latin American leaders, who formalized their support for Taiwan's bid to join the United Nations and other international organizations.
"There's a specific paragraph for Taiwan's access to international organizations" in the summit's final statement, Salvadoran Foreign Minister Maria Eugenia Brizuela said during a briefing on the meeting - the third between Central America and Taiwan.
President Chen used to occasion to appeal to the UN to support Taiwan's membership, urging it to learn from the countries of Central America and their sense of justice. Chen said that the UN should implement the "universal membership" enshrined in its Charter and allow Taiwan to join the world body.
In his subsequent stops to Guatemala, Panama, Paraguay and Honduras, president Chen met with the leaders of those countries and spoke to the respective Parliaments, while First Lady Wu Shu-chen visited hospitals and care centers for the handicapped.
She has been in a wheelchair herself since 1985, when she was hit by a truck during a campaign event in Tainan, in what was widely considered a politically_inspired attack by elements of the then-ruling Kuomintang.
Houston, here I come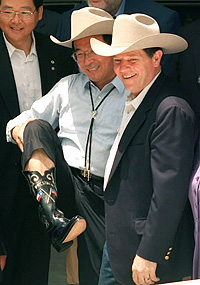 President Chen showing off his new cowboy boots, accompanied by Congressman DeLay
Upon his arrival in Houston on Saturday 2 June 2001, Mr. Chen was welcomed warmly by the local Taiwanese community, and by supporters who traveled from as far away as California. Around 3,000 Taiwan supporters toting banners and chanting cheers massed outside Chen's Post Oak Double Tree hotel.
The crowd chanted "we love Taiwan, we love freedom" and waved back to Chen and his wife, eyed by a heavy turnout of US Secret Service agents and police. One supporter, Cheng Y. Chuang, a prominent member of the Taiwanese-American community, said : "we are here because we want to make clear that Taiwan is not a part of China according to history."
On Sunday, President Chen and his entourage were hosted by Tom DeLay, majority whip in the Republican-controlled House of Representatives, who feted them for lunch in a Taste of Texas steak house, and attended a Houston Astros -- LA Dodgers baseball game before leaving for home.
During the visit President Chen donned Texas boots and a cowboy hat presented to him by Congressman DeLay.
---
Back to: Table of Contents
Copyright © 2001 Taiwan Communiqué