Taiwan Communiqué No. 95, February 2001
---
President Bush's chance
Remold Taiwan policy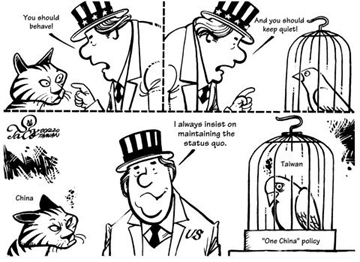 US to Taiwan, locked up in a "One China" bird cage: "I always insist on maintaining the status quo"
As he assumes the US Presidency, George W. Bush does have an excellent opportunity to remold policy towards Taiwan, redress the backward slide of the Clinton years, and set US policy firmly on a course that is consistent with the basic international principles of democracy and self-determination, as well as basic US values.
The first step should be to move away from Mr. Clinton's "strategic ambiguity" (whatever that meant) and confusing "One China" concepts towards strategic clarity: it needs to be made clear that any attempt by China to resolve its differences with Taiwan by force is not acceptable to the United States.
The second step is a renewed emphasis on freedom, democracy and self-determination: if the United States wants these principles to gain wider acceptance in East Asia, it needs to make crystal clear that the Taiwanese people have the right to determine their own future without any outside pressure or interference from China.
The third step is normalization of relations with Taiwan. As we have emphasized earlier: a peaceful resolution of the Cross Strait conflict is only possible if the United States and the rest of the international community end the unfair and unjust isolation of the island, and accept that nation-state as a full member of the international community. As long as Taiwan is isolated, it is pushed with its back against the wall by China, and any negotiations would lack a level playing field.
A new US administration also needs to move away from the pervasive paranoia about Taiwan independence: the country is a de facto free and independent nation. The only question is how it should be recognized internationally: under the outdated and anachronistic "Republic of China" name, which evokes bitter memories of the Chinese Civil War between the Kuomintang and the Communists, or simply and straightforwardly as a new and democratic "Taiwan", which lives in peace with all its neighbors, including China.
China's "new flexibility"?
On 5 January 2001, the Washington Post published an interview of its Beijing reporter John Pomfret with Chinese deputy Prime Minister Qian Qichen. Mr. Qian reportedly indicated that China was willing to be "more flexible" on Taiwan, and also reported that Beijing was urging the incoming Bush Administration not to view Beijing as a "strategic competitor" ("Beijing signals new flexibility", Washington Post, 5 January 2001).
The "new' stance appears more optical than any real shift in position, and seems designed try to prevent the new Bush Administration from moving closer to Taiwan, and in particular from deciding to sell the Aegis weapon system to Taiwan during the upcoming round of decisions in April 2001. China is thus displaying some mock flexibility.
In spite of what Mr. Qian stated, another Chinese official — ARATS vice chairman Sun Yafu — said at a briefing after the Qian meeting that any talks can only go ahead if Taiwan recognizes the Beijing-defined "One China" principle.
In the article, Mr. Pomfret also wrote that after Chen Shui-bian's election as president of Taiwan, "…China has launched a veritable charm offensive with Taiwan." This is a distortion of facts: the following headlines of recent news reports give some indication of China's stance:
January 4th 2001: "China accuses Taiwan's Chen of playing politics over three links", AFP
January 4th 2001: "Links utterly inadequate, says China spokesman", South China Morning Post
January 3rd 2001: "Beijing slams Taiwan mini-links as inadequate", AFP
Dec. 13th 2000: "China tested long-range missile during Shelton visit", Washington Post
Taiwan Communiqué comment: We cannot detect any "charm offensive" there. The fact of the matter is that during the past months, Taiwan President Chen Shui-bian has shown all the flexibility, and has bent over backwards to be friendly to China.
However, China has continued to threaten and intimidate our free and democratic homeland Taiwan. We hope Mr. Bush will stand firm, tell China to keep its hands off Taiwan, and help bring about a normalization of relations between Taiwan and the United States.
---
Back to: Table of Contents
Copyright © 2001 Taiwan Communiqué