Taiwan Communiqué No. 94, December 2000
---
Report from Washington
Taiwan-into-the-UN resolution passes Congress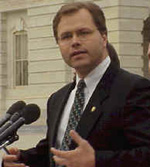 Congressman Bob Schaffer (R-CO)
On 19 October 2000, the US Senate passed by unanimous consent a resolution calling for meaningful representation for Taiwan in the United Nations and other international organizations. Senator Jeff Sessions (R-AL) introduced the resolution (H.Con.Res. 390) into the Senate.
"This is a victory for the people of Taiwan," said Rep. Bob Schaffer (R-Colo.), original sponsor of the House resolution, upon learning of the Senate vote. He added that passing the widely supported resolution "once again restates our support and our commitment to the progress of Taiwan's democracy."
Schaffer, who along with 40 of his colleagues introduced the Resolution 390 on July 27, wrote a letter to Senate Majority Leader Trent Lott (R-Miss.) Wednesday, requesting the resolution be placed on the Senate calendar to ensure its timely passage.
On Oct. 3, the House had passed the resolution by an overwhelming vote. "Congressional support for Taiwan is solid. Taiwan has made enormous strides toward becoming a full democracy and it is unreasonable for the people of Taiwan to be excluded from full participation in international institutions due to threats from mainland China," said Schaffer.
The previous week, Schaffer and 10 other members of the House of Representatives also sent joint letters to Sen. Jesse Helms (R-N.C.), chairman of the Senate Foreign Relations Committee, and Sen. Craig Thomas (R-Wyo.), chairman of the Senate Subcommittee on East Asian and Pacific Affairs, urging the Senate to support Taiwan's participation in the United Nations and other international bodies such as the World Health Organization.
Formosan Association for Public Affairs President Chen Wen-yen stated "it is a major step in the quest of the 23 million people of Taiwan for full membership in international organizations, such as the United Nations and the World Health Organization. "
He added"The world should not forget that UN membership for Taiwan is not some lofty dream, but it is imperative to Taiwan's national survival. Taiwan's access to the UN Security Council, when China again starts to rattle its sabers, is not a luxury; it is a universal right! The rest of the world has that right, therefore Taiwan should have that right too."
Congress favors high level contacts with Taiwan
On 14 September 2000, a a bi-partisan group of twenty-three Members of the U.S. House of Representatives led by Sam Gejdenson (D-CT) and Benjamin Gilman (R-NY) introduced a resolution seeking to end restrictions on high-level visits from Taiwan, and enable direct communications and meetings with elected and appointed top officials of the island nation, including its democratically-elected president.
The resolution concludes: "… it is the sense of the Congress that (1) it is in the interest of the Congress and the executive branch of the United States to communicate directly with elected and appointed top officials of Taiwan, including its democratically elected president; and (2) the United States should revise, with a view toward reducing, restrictions on high-level visits by these officials of Taiwan to the United States."
The legislation was prompted by the restrictions imposed by the Clinton Administration on the transit visit of Taiwan President Chen Shui-bian in Los Angeles in August 2000, when the State Department did not allow President Chen to meet with US Congressmen. The members of Congress contrasted the treatment of the democratically-elected Chen with the red carpet treatment given to the Chinese dictators in Washington, and termed it an outrage.
On 28 September 2000, the Senate version of this resolution, S.C.R.-140, was introduced by Senators Trent Lott (R-AL) Jesse Helms (R-NC), Murkowski (R-AK), Jon Kyl (R-AZ), Mrs. Kay Hutchinson (R-TX), Bob Smith (R-NH), Mr. Robert Bennett (R-UT), and Tim Hutchinson (R-AR).
The President of the Washington-based Formosan Association for Public Affairs (FAPA), professor Wen-yen Chen, expressed the appreciation to the Congress on behalf of the Taiwanese-American community, and added a strong criticism of the Clinton Administration: "We Taiwanese Americans are utterly dismayed and outraged about the way these democratically elected leaders of Taiwan are being treated by the Clinton Administration."
He added that in mid-September 2000, Taiwan's Vice-president Annette Lu, was being treated in a similarly outrageous fashion by the Clinton administration. She was barred from meeting with U.S. officials during transit stops in Los Angeles and Miami on her way to and from Central America.
Resolution on Taiwan self-determination introduced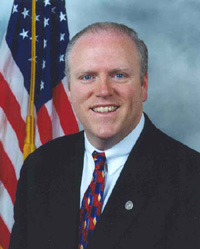 Congressman Joseph Crowley (D-NY)
On 27 October 2000, a bi-partisan group of members of the U.S. House of Representatives introduced "Assent of the People of Taiwan" Resolution (H.Res. 659).
The resolution was introduced by a bi-partisan group led by Congressman Joseph Crowley (D-NY), including prominent members such as Peter Deutsch (D-FL), Dana Rohrabacher (R-CA), Pete Sessions (R-TX), Sherrod Brown (D-OH), Robert Andrews (D-NJ), Anna Eshoo (D-CA), Steve Chabot (R-OH), Nancy Pelosi (D-CA), Howard Berman (D-CA), Lincoln Diaz-Balart (R-FL), Gary Ackerman (D-NY) and David Wu (D-OR).
It expresses the sense of the House of Representatives that the future of Taiwan should not only be resolved peacefully but also through a democratic mechanism and with the express consent of the people of Taiwan.
The resolution terms the right of self-determination as a fundamental right of all people, set forth in numerous United Nations instruments of which the United States is a signatory.
That right of the people of Taiwan to determine their own future was explicitly affirmed by President Clinton in two speeches done on 24 February 2000 and 8 March 2000, where he stated that "We will… continue to make absolutely clear that the issue between Beijing and Taiwan must be resolved peacefully and with the assent of the people of Taiwan."
While Taiwan has expressed its willingness to re-open dialogues with China and has embraced peaceful means to solve the cross-Strait issue, China has continually refused to renounce the use of force against Taiwan. This is the key obstacle to the cross-Strait stalemate.
Introducer Congressman Joseph Crowley (D-NY) stated: "The right to self-determination is not a concept reserved strictly for Americans, but for all people around the world. This resolution reaffirms U.S. Congressional support for those who wish to secure these rights through peaceful negotiations and democratic mechanisms."
FAPA President Wen-yen Chen, Ph.D. said "It is significant that Taiwan's friends in Congress deemed it important to introduce this resolution on the very last day of the 106th Congress. The mere introduction of this resolution sends a clear signal to rest of the world and to Beijing in particular that it is the sense of Congress that the future of Taiwan must only be determined by the people of Taiwan, without any outside interference from China!"
---
The visit of Mr. Lee Kuan-yew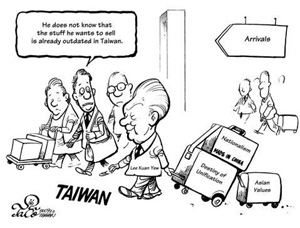 He doesn't know that the "unification" stuff he wants to sell is already outdated in Taiwan?
In September 2000, former Singapore prime minister Lee Kuan Yew visited Taiwan and gave its leaders plenty of "advice" regarding relations with China. We took a look at Mr. Lee, his background and views. The article was published in the Taipei Times on 14 September 2000.
Lee was born into a wealthy Chinese family in Singapore in 1923. He studied law in England in the late 1940s and was admitted to the English bar in 1950. After his return from England he became a leader in nationalist political circles, and in 1954 formed the People's Action Party. Lee was a member of the delegation that negotiated Singapore's independence from the British in 1956-58. Following his party's victory in the subsequent elections, he became prime minister in 1959, a post he held until 1990.
The fact that he led Singapore for more than 30 years presents two alternative propositions. First, the people of Singapore liked him so much that they elected him again and again; or second he was repressive and didn't allow opposition to surface.
As anyone familiar with Singapore's history will confirm, proposition number 2 is the correct one: for a while there was a mere one-man opposition in Singapore's parliament, and Lee found it necessary to frame that person and imprison him.
Perhaps Lee's Singapore is thus not a great showcase for democracy. Lee coined a phrase for his approach: "Asian values," meaning that individual human rights are less important than the government deciding what is best for its people. Lee and other small-time dictators such as Hong Kong's Tung Chee-hwa and Malaysia's Dr Mahathir Mohamad have used the concept to justify the authoritarian state of affairs in their states.
So, what kind of advice is Lee going to bring us? Presumably that unification with China is "inevitable," as he stated in an interview with the Far Eastern Economic Review on 8 June 2000. But, wait a minute, if "unification" is so good for Taiwan, why doesn't Singapore "unify" with China? Aren't they all Chinese? We haven't seen any indication that Lee intends Singapore to do that.
In the same interview, Lee stated that it is wrong for Taiwan to emphasize its own separate identity. Yet, isn't that what he has been doing in Singapore himself? Lee, isn't it a bit hypocritical to tell others they can't have their own identity, when you have been asserting Singapore's identity yourself all your life?
As Taiwanese we have the same right as all the peoples of the world to our own identity, culture, and history. We have the same right as all the peoples of the world to be accepted as full and equal members of the international community.
Lee would do best, therefore, to stay at home and mind his own business. We Taiwanese will determine our own future.
---
Mr. Lee Wen-ho's nuclear secrets
During the months of August through October 2000, the case of scientist Wen-ho Lee was extensively in the news again. Mr. Lee was eventually released in October when the judge in the case determined that the prosecution had presented inaccurate information, and also had attempted to coerce Mr. Lee into a confession.
Mr. Lee had been indicted and imprisoned by the US authorities in December 1999 after much delay and foot-dragging, and was held for nine months, most of it in solitary confinement. He was charged with illegally removing nuclear secrets from his Los Alamos computers, when it became difficult to find direct evidence of the original suspicions that he had provided secrets on US nuclear weapons to China in the late 1980s and early 1990s.
The defense and some Chinese-American and Asian-American organizations were trying to play the "race card" by charging that Mr. Lee was the victim of "ethnic profiling", and was indicted simply because he was of oriental descent. We believe this charge is not right.
As Asian-Americans, we need to make it perfectly clear where our loyalties lie: with freedom and democracy, not with repressive regimes. While we cannot say yet whether Mr. Lee is guilty or not, we must point out there is ample evidence that Mr. Lee was playing with fire and that he knew it.
Some Taiwanese-Americans, who knew Mr. Lee and his wife when he was still working at the Idaho National Laboratory in the mid-1980s, say that he and his wife were overly eager to contact visiting Chinese delegations and "exchange views" with them. Lee and his wife also jumped at the opportunity to visit China in 1986 and 1988 at the invitation of the Chinese Institute of Applied Physics and Computational Mathematics, which is involved in the design and simulation of nuclear weapons.
According to the original 59 counts of the indictment, Mr. Lee transferred hundreds of files containing nuclear weapons secrets to unclassified computers and removable computer tapes. One government agent stated that, if printed out, the volume of material would make a stack of paper 134 feet tall. It would be gullible to assume Mr. Lee did this just to impress potential employers, as his defense attorneys were trying to imply.
If Mr. Lee truly wants to be considered an American citizen, he should be held accountable for his actions and not hide behind a "race card". If he indeed contributed to an increase in China's knowledge of miniaturized nuclear weapons, this is endangering the future of our home country Taiwan. We need to know what happened.
---
Back to: Table of Contents
Copyright © 2000 Taiwan Communiqué