Taiwan Communiqué No. 92, July 2000
---
A Profile in Courage
First Lady Wu Shu-chen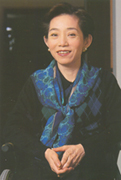 One of the people propelled to the forefront of public life in Taiwan is Mrs. Wu Shu-chen, wife of President Chen Shui-bian. An image that is indelibly etched in the minds of her supporters is when, on the night of the March 18th election victory, the wheelchair-bound new First Lady spoke in a soft voice to the thundering applause of thousands of supporters, thanking them and reminding them of the heavy responsibility and the greater challenge ahead.
The story of A-bian and A-chen (her nickname) _ their courtship, marriage and political career _ has become a folktale in Taiwan. She hails from a rich and prominent family in Tainan, while he was a poor farmer's son, living in a mud-house. Her father wanted his daughter to marry a medical doctor to continue the family practice, but she married the young lawyer against the wishes of her family, and didn't get a dowry.
She was the driving force behind his political career. Twenty years ago, she convinced him to serve as defense lawyer for two defendants of the December 1979 Kaohsiung Incident, Formosa Magazine publisher Huang Hsin-chieh and human rights activist Ms. Chen Chü. When Mr. Chen hesitated, she told him: " If you don't take on this challenge, it would be meaningless to continue to serve as a lawyer." It proved to be a watershed for Chen's political life.
After the 1980 Kaohsiung Eight trial, lawyer Chen became increasingly active in the budding tangwai democratic opposition. In 1981, he ran for a seat in the Taipei City Council, where he sharpened his skills in interpellation. In the meantime he continued his successful legal practice in maritime and commercial law.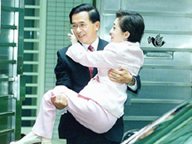 In October 1985, Mr. Chen entered the race for county magistrate in Tainan, his home county in southern Taiwan. Although he ran a strong race in the election campaign, he lost by a slim margin. Two days after his defeat, on 18 November 1985, they returned to Tainan to thank people for their support. During a stop near Kuan Miao Temple, she was hit by a farm truck in a politically-motivated "accident." The driver backed up to run over her two more times, shattering her spinal cord. He was briefly arrested, but the Kuomintang authorities never charged him. Shu-chen was left paralyzed from the waist down after, and would never walk again..
In 1986, after Mr. Chen was imprisoned in a politically-inspired lawsuit against an opposition magazine he was associated with (see the article "Who is Elmer Fung" on. p. 21) Shu-chen decided to seek justice by running for a seat in the national-level Legislative Yuan. It was just a few months after the Democratic Progressive Party had been founded, but martial law was still in force, and the Kuomintang threatened to crack down on the "illegal" party. She rode the wave of sympathy votes and was elected. When Mr. Chen was released from prison in early 1987, he served as her chief counsel.
Three years later in 1989 and again in 1992, A-bian ran successfully for two terms as legislator, and in 1994 _ in a hard-fought three-way race — was elected as mayor of Taipei, which laid the foundation for his recent run for the presidency.
---
Back to: Table of Contents
Copyright © 2000 Taiwan Communiqué