Taiwan Communiqué No. 83, October 1998
---
In Memoriam
DPP legislator Dr. Lu Hsiu-yi

On 6 August 1998, DPP legislator Lü Hsiu-yi passed away in Tamsui, near Taipei. He had been suffering from lung cancer since 1995. He was a sparkling personality with a great sense of humor. He also had great courage, and was one of the first overseas Taiwanese to come out and run for election in Taiwan.
He was already politically active when he studied in Europe in the 1970s. He studied at the University of Leuven in Belgium and received his Ph.D. in political science from the University of Paris in Nanterre in 1980.
After returning to Taiwan, Professor Lü taught at Chinese Culture University and National Tsinghua University. However, he was arrested in January 1983 and held incommunicado for 1 1/2 months, during which he was interrogated harshly, sometimes for a couple of days in a row. After a kangaroo trial he was sentenced and served a three-year prison term from 1983 through 1986 on a charge of "sedition" for promoting Taiwan independence. Later he would joke that his hair turned gray during this prison period, but that this made him look more distinguished!!


In 1989, he was one of the first overseas Taiwanese to run for public office, and he was elected to a seat in the Legislative Yuan, representing Taipei County. He was re-elected in 1992, and again in 1995. In November 1997, although terminally ill, Lu rejected his doctor's advice and went out to stump for the DPP's candidate for the Taipei County magistrate election, Su Chen-chang.
Thousands of Taiwanese attended the funeral service for Mr. Lu, which was held in Panchiao, Taipei County on Tuesday, 18 August 1998. It was attended by senior government officials, including President Lee Teng-hui, Vice President Lien Chan and Premier Vincent Siew, as well as leading members of the DPP, such as newly-elected chairman Lin Yi-hsiung.
The funeral rites began with a performance of French composer Gabriel Fauré's "Song of Pathos" by the Formosa Egret Symphony Orchestra, which was founded with the support of Lu and his wife, who is a well-known concert pianist in Taiwan.
The funeral procession extended several kilometers as thousands of Lu's supporters, including many taxi drivers, escorted Lu's coffin to the crematorium where Lu's body was cremated. The DPP held an overnight vigil to pay tribute to one of its most popular standard bearers.
We will miss him, and we wish his wife and children much strength in these difficult days, weeks, and months ahead.
---
Ms. Lin Ti-chuan laid to rest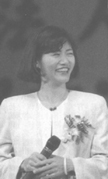 On Tuesday, 18 August 1998, Ms. Lin Ti-chuan, a female opposition politician from the southern Taiwanese port city of Kaohsiung, was laid to rest in her hometown. She died in China at the end of July 1998, after being kidnapped and drugged while she was accompanying her boyfriend on a business trip in the northeastern province of Liaoning.
Reportedly, the Chinese business contact in Dalian, a certain Lee Kuongchih, and two of his associates armed with knives bound and blindfolded Lin and Wei, and then injected them with an unknown drug, apparently a sedative. They were then taken by car to Haicheng City, an hour's drive from the industrial city of Anshan. The kidnapers reportedly demanded a ransom of US$ 200,000 but refused to allow Wei to use a telephone to try to raise the money.
Over the next two days, the couple received injections about once every five hours. By July 29th, Ms. Lin had turned deadly pale and was foaming at the mouth. The kidnapers then took her to a local hospital, at which time Mr. Wei escaped. He went to the authorities to report the case.
Her death caused an outrage in Taiwan, not only because of the brutal way her life came to an end, but also because of the high-handed way in which the Chinese authorities handled the matter: when Ms. Lin's family arrived in China to bring her back home to Taiwan for burial, the authorities at first refused to release the body.
At the funeral in Kaohsiung, Ms. Lin's coffin was covered with the green-and-white DPP party flag, and some 1,000 people, including leading Party members and local politicians, attended the funeral.
In China, the authorities subsequently arrested a number of persons on suspicion of being involved in the murder, but the main suspect is still at large.
The Taiwan authorities said that during the past few years, some 30 businesspeople had been murdered in China, while dozens received murder or kidnap threats. The most recent case is that of a Taiwanese businessman, Mr. Wang Fujing, who was murdered by contract killers in the southern boom city of Shenzhen. Wang, 40, from the Taiwanese port city of Kaohsiung, was suffocated in Shenzhen on July 12 and his body was stripped and thrown down a well.
---
Aborigine delegation denied a voice in Geneva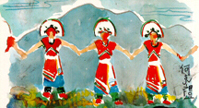 At the end of July 1998, the 16th Session of the United Nations Working Group on Indigenous Populations (UNWGIP) took place in Geneva, Switzerland. The theme of this year's UNWGIP Forum was "Education and Language".
As in previous years, a delegation representing 11 aborigine tribes from Taiwan planned to attend and participate in the meeting. The 15 members were very enthusiastic to share their experiences with the UN and other indigenous groups around the world. However, due to China's strong objections, the delegation was almost denied participation in the meeting, and they were eventually barred from speaking at the Forum.
The UNWGIP and the Forum were originally set up as an open platform for all indigenous peoples, without any reference to national affiliation. As long as a group was identified as "indigenous people" it was automatically considered a member of the UNWGIP. In clear violation of that ground rule, the Taiwanese indigenous groups are now under a "special file" and waiting for a review by five rapporteurs of the UNWGIP to decide their membership in the UNWGIP.
The original agenda of the meeting showed that the spokesperson for the delegation, Dr. Wen-chi Kung of the Atayal tribe, was scheduled to speak. However, at the last minute, his name was removed from the list of speakers, and he never received an opportunity to speak.
On 30 July 1998, the delegation issued a press release and a formal request to the Secretariat of the UN Working Group for an explanation, but the delegation never received a response.
---
Back to: Table of Contents
Copyright © 1998 Taiwan Communiqué