Taiwan Communiqué No. 79, February 1998
---
The Asian Economic Crisis
East and Southeast Asia is being engulfed by a major financial and economic crisis, the to-be-expected result of unbridled economic development at any cost, and the overblown expectations of short-sighted foreign investors during the past decade.
Taiwan weathering the storm
So far, Taiwan has remained relatively untouched by the storm. While the NT dollar dropped 17 percent against the US dollar, this was minuscule in comparison to the drop in other currencies. While inflation in nations like Indonesia, Thailand and South Korea skyrocketed, in Taiwan prices remained stable.
The strengths of Taiwan are well-known: an industrious, well-educated population, a versatile industrial structure, with many small and medium-size enterprises, which are accustomed to strong competition at home and abroad, and a relatively open economy.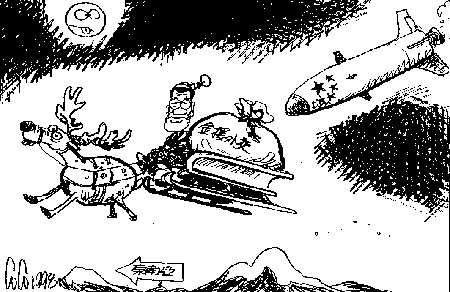 "Santa" premier Vincent Siew on his way to Southeast Asia: Chinese missile not far behind
Its weakness is its close proximity to China, and the heavy investments made by Taiwanese firms in the Chinese coastal areas. According to a Reuters report from Tokyo ("Taiwan's mainland exposure risky", 21 January 1998) Taiwan is vulnerable because of the overinvestment by Taiwanese smaller firms, some 40,000 of which are reported to operate in the coastal Chinese provinces.
This report and other recent analyses (see below) say that the real effects of the economic crisis hitting China are still to come.
A brief overview of articles:
* "Shaky stability", Wall Street Journal, 15 December 1997
* "What Asia's financial crisis portends", New York Times, 29 December 1997
* "On the road to capitalism, China hits a nasty curve: joblessness", New York Times, 20 January 1998
* "China will have to devalue, and Hong Kong will hurt", International Herald Tribune, 3 February 1998
* "The Asian Blues", New York Times, 3 February 1998
---
Building relations with Southeast Asia
To its credit, the government of President Lee Teng-hui has acknowledged the dangers of the "too-close-for-comfort" economic links with China and has attempted to discourage investment in the Chinese coastal provinces, arguing in favor of a "southward" policy of links with Southeast Asian nations instead.
The Southward policy gathered steam during the past few months, when the economies of Southeast Asian countries went through a downward surge. This provided an opportunity for the Kuomintang authorities to extend a helping hand to its Southeast Asia neighbors, an opportunity which they grabbed with both hands.
It started following the APEC meeting in Vancouver in November 1997, when several of the Southeast Asian leaders were invited to "stop by" in Taipei on the way home. The Prime Ministers of Malaysia and Singapore did. Then in the beginning of January 1998, several of the Kuomintang's leading politicians such as Premier Vincent Siew and Vice-president Lien Chan made quick forays into countries such as Singapore, Indonesia and the Philippines, hobnobbing — and in the case of Singapore even playing golf — with the respective leaders.
Of course the Chinese in Beijing didn't like all this coziness, but all they could do was fume.
---
Washington Times editorial: "People's" Republic of China on Taiwan ?
Taiwan's stable position in the Asian economic crisis provided for some amusing confusion in Washington. The Washington Times, faithful to its conservative leaning, wanted to write an editorial praising the Kuomintang authorities for their deft handling of the economic and financial crisis.
However, in the editorial, titled "Taiwan's opportunity" and published on 1 February 1998, the paper made an interesting blooper by referring to Taiwan as "People's Republic of China on Taiwan."
This error is of course not of the Washington Times' making, but is due to the outdated policy of the Kuomintang authorities on Taiwan, who continue to refer to themselves as "Republic of China."
The democratic opposition in Taiwan has long argued in favor of discarding this anachronistic title, and to work towards acceptance of Taiwan as a full and equal member of the international family of nations under its own name, "Taiwan."
We urge the Kuomintang, and the international community, to end this confusion and to let Taiwan be Taiwan.
---
Back to: Table of Contents
Copyright © 1998 Taiwan Communiqué