Taiwan Communiqué No. 76, June 1997
---
The China-connection
John Huang role detailed
In Sept.-Oct. 1996, just before the US Presidential elections, former Commerce Department official John Huang became a household name in the US, because of his shady fundraising activities for the Democratic National Committee. In mid-February 1997, it became known that the FBI had discovered a plan by the Chinese authorities to buy influence in Washington. Mr. Huang and Indonesian/Chinese Lippo Bank group reportedly played a key role in this (see Taiwan Communiqué no. 75, pp. 8-10).
During the past two months, several major American newspapers published extensive exposés on the matter. Here we simply give a brief listing of the major articles:
"Documents: Huang kept Eye on donors", by James Rowley, Associated Press, 15 April 1997.
"Top Chinese linked to plan to buy favor", by Bob Woodward, Washington Post, 25 April 1997.
"Huang had more access than thought", by John Solomon, AP, 29 April 1997.
"Huang Linked to fund-raising at Commerce", by Glenn F. Bunting and Alan C. Miller, Los Angeles Times, 25 May 1997.
"The Riadys' persistent pursuit of influence", by Sharon LaFraniere, John Pomfret and Lena Sun, Washington Post, 27 May 1997.
---
Taiwanese-Americans write Feinstein
Over the past years, California Senator Dianne Feinstein has been a major pro-China voice in the U.S. Senate. Through the business dealings of her husband she also benefited from trade and investment in China (SeeTaiwan Communiqué, April 1997).
Recently, representatives of the Taiwanese-American community in the Bay Area wrote her the following letter:
Dear Senator Feinstein:

We, Taiwanese-Americans and other citizens of California have traditionally supported the Democratic Party; we strongly supported you during the 1992 Senatorial race. As an important constituency, we believe that our voice must be heard. We disagree with your stance on two issues: your support of defense trade with China and your stance against the democratic sovereignty for Taiwan. Your position on the sovereignty of Taiwan and your stance on Chinese trade and human rights violation issues is damaging to the international pursuit of human rights.

The Chinese government has proven its aggressive nature, as exemplified by its threats to Asian peace and democratic transformation: China's brutal suppression of the democratic protesters in Tienanmen square in 1989 and heavyhanded use of missile tests to intimidate the Taiwanese as Taiwan attempted to hold free democratic elections in 1996. The Chinese government's cruel acts in Tibet and East Turkestan has provoked the outrage of the international community.

Furthermore, China's military weapon trade to the Third World is no longer a secret. Your support of U.S. military trade with China gives the Chinese state the tools to more efficiently violate the human rights of those who cannot defend themselves. We are outraged at your support of military trade with China. This is not merely an Asian issue, it is an international concern.

We find it repugnant that the United States government would ignore a democracy to expedite relations with a dictatorship.

The twenty-one million people of Taiwan currently have no voice in the United Nations. They strongly desire to be represented in this world organization. As a country, Taiwan has a defined territory, a peace loving population and a democratic government. The logical next step for such a country is international recognition. Your clinging to the "One China" policy hampers the democratic nation in-the-making. We find it repugnant that the United States government would ignore a democracy to expedite relations with a dictatorship. China's military build up of offensive weapons that intimidated Taiwan during Taiwan's first democratic elections in March 1996 clearly violates and blatantly hinders a fledgling nation in democratic transition.

As Californian citizens of the United States, we have elected you into Congress to defend our rights and to represent our views on both domestic and international issues. We feel that your apathy toward human right issues in China and opposition to the sovereignty of Taiwan are not representative of your constituents. During the next Senatorial election, we intend to mobilize the Taiwanese American community as a voting block by issuing slate cards. We strongly urge you to reconsider your position.
---
Kidnaping, murder, and corruption
A series of high-profile murders has focused attention in Taiwan on the rising crime and corruption, and on the Kuomintang's inability to solve the murders. The matter has clouded the political horizon for President Lee Teng-hui, only one year after his overwhelming election as Taiwan's first democratically-elected President.
The latest episode, the April 1997 kidnaping and murder of Ms. Pai Hsiao-yen, the 17-year-old daughter of singer-actress Pai Ping-ping, followed earlier gangland-style murders of Taoyuan County magistrate Liu Pang-you and seven associates in November 1996, and of DPP Women's Division Director Mrs. Peng Wan-ru in December 1996 (see Taiwan Communiqué no. 74, pp. 22-23). All of these murders are still unresolved.
The public anger and frustration are focused on the Kuomintang, because the ruling party seems to be unable to effectively combat crime, and seems to condone association of many of its local members with various underworld gangs.
According to Taiwan's own Justice Minister, some one-third of the island's city and county councilmen either are gangsters themselves or have gangster connection. Justice Minister Liao Cheng-hao stated also that 10 % of the members of the national legislative bodies, the Legislative Yuan and the National Assembly, have gangster ties, and one KMT member of the Legislative Yuan even openly prided himself on his underworld connections.
Ties between the Kuomintang and gangster organizations are not new: In the 1940's, the infamous Green Gang and Bamboo Union followed Chiang Kai-shek to the island (see the book "Fires of the Dragon", by David E. Kaplan). The now well-known murder of Chinese-American writer Henry Liu in October 1984 brought to light that close links existed between gang organizations and the KMT's secret police. While the secret police was disbanded after the 1987 end of Martial Law, and lost much of its influence, many of the operatives continued their "work" and infiltrated the restaurant, nightclub, gambling and construction business. Many of them made fortunes through connections with their old KMT network.
Demonstrations and legislative votes against the KMT
Public concern over the rising crime and public safety prompted two unprecedented large demonstrations in Taipei. On 4 May 1997, some 50,000 people gathered in front of the presidential building to express their anger, and to demand that Premier Lien Chan step down. The demonstration was organized by a coalition of some 150 citizens groups.
On 18 May 1997, 550 citizens groups organized yet another large-scale demonstration. According to the Hong Kong-based publication Asiaweek it drew close to 100,000 people. A statement from the gathering simply read: "We have a very humble request; we want a government that can safeguard the safety and welfare of women and children."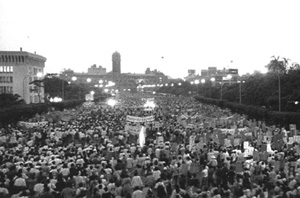 In front of the Presidential Palace
In the meantime, in the Legislative Yuan a coalition of the opposition Democratic Progressive Party and the New Party proposed several legislative motions to recall Vice President Lien Chan as premier, a position he held concurrently. After ten rounds of voting, the motion was defeated only narrowly by two (out of a total of 154) votes.
After Interior Minister Lin Fong-cheng resigned to take responsibility for the government's inability to solve the murders, President Lee appointed KMT legislator Ms. Yeh Chin-fong as the new Interior minister.
Premier Lien Chan in an attempt to bolster his public image appeared on television talk shows and made the public announcement that he would resign in July 1997 after the constitutional reform was completed.
Taiwan Communiqué comment: the Kuomintang would do well to speedily solve the murders, crack down on the gangsters, and make the streets of Taiwan safe again. There is strong incentive for the Taiwan authorities to move quickly: at the end of the year, elections will be held for twenty-five County Magistrate and City mayor positions.
---
Back to: Table of Contents
Copyright © 1997 Taiwan Communiqué