Taiwan Communiqué No. 74, February 1997
---
China continues arrogant bullying
Tibetan music scholar sentenced
At the end of December 1996, Mr. Ngawang Choephel, a Tibetan music scholar, was sentenced to 18 years imprisonment by the Chinese authorities for "espionage." Mr. Choephel was a Fulbright scholar studying and teaching at Middlebury College in Vermont.
Mr. Choephel had gone back to Tibet in 1995 to videotape traditional songs and dances, which he feared are being eradicated by the Chinese repressive policies. He was arrested in September 1995, and for more than a year the Chinese authorities kept him incarcerated, incommunicado and without trial.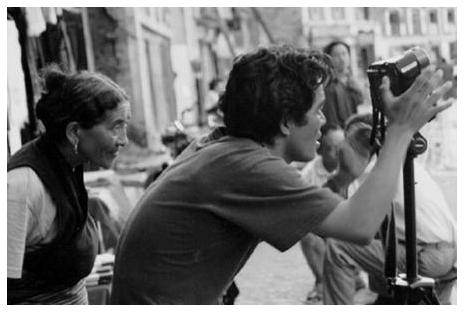 Mr. Choephel at work in Katmandu, before his departure to Tibet(photo: Kathryn Culley / ICT)
Only after an international campaign by Tibetan organizations, and expressions of deep concern by members of the US Congress did the Chinese authorities acknowledge they were holding Mr. Choephel. After the usual mock trial, they then sentenced him to 18 years imprisonment.
Veto on UN-role in Guatemala peace process
In another show of arrogance, on 10 January 1997 the Chinese vetoed a United Nations resolution designed to bring peace to Guatemala. The UN resolution was to approve the deployment of 155 military observers to monitor the implementation of a peace agreement between the Guatemalan authorities and anti-government rebels. The December 29 peace agreement took six years of negotiations, and ended 36 years of fighting, during which some 100,000 people were killed and another 40,000 disappeared.
China was reported piqued at Guatemala's diplomatic ties with Taiwan, and was abusing the occasion to try to push Taiwan into even tighter isolation.
However, after 10 days of negotiations and threats by supporters of the plan to put the plan before the 185-member General Assembly, where it would certainly have been approved overwhelmingly, it was announced in New York on 21 January that China had reversed its veto and was agreeing to the deployment of the UN peace keepers. According to press reports Guatemala, a strong supporter of the annual campaign for Taiwan's membership in the UN, had agreed not to pursue that support during the coming year.
The Washington Post aptly commented: "China's contention that the United States should "delink" various issues in dealing with Beijing trade and human rights for example isn't strengthened when China links unrelated issues in this way. And China's desire to win respect as a world power can only suffer from such pettiness" ("Peace becomes a pawn ...", Washington Post, 20 January 1997).
Strangling Freedoms in Hong Kong
The third instance of the complete disregard for democratic values and human rights by the Chinese was the establishment of an "Interim Legislature" in December 1996, which will presumably replace the elected Legislative Council now in place. A few weeks later on 21 January 1997 it was also announced that a China-appointed committee was proposing that some 25 laws and measures, including the 1991 Bill of Rights be scrapped.
The proposals to discard the laws and measures guaranteeing some measure of freedoms and rights in Hong Kong were made by a subgroup of Beijing's Preparatory
Committee, which is preparing Hong Kong's transformation into what China calls a "Special Administrative Region." The proposed changes would virtually erase all freedoms guaranteed under the 1991 Bill of Rights, and would increase police powers to ban peaceful protests. It would also strongly curb contacts between Hong Kong groups and societies with overseas organizations.
Oddly enough, the selection of the 60-member "Interim Legislature" didn't even take place in Hong Kong. It was performed by a 400-member Chinese-appointed selection committee which met at the end of December in the city of Shenzhen in Southern China. Many of the members are pro-Beijing politicians who were defeated in the Hong Kong elections for the Legislative Council in 1995.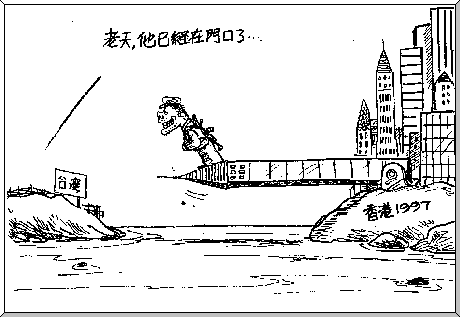 Taiwanese worried about Hong Kong 1997:
"The Chinese are getting closer !!"
At its first meeting on the weekend of 25-26 January 1997, the "Interim Legislature" met -- also in Shenzhen, far from the democratic influence of the Hong Kong people and endorsed the dismantling of civil liberties in Hong Kong. On Saturday, 1 February 1997, the 150-member Beijing-appointed Preparatory Committee endorsed the repeal of the civil liberty legislation. Mr. Tung Chee-hwa, the shipping magnate handpicked by Beijing to lead Hong Kong after it reverts to Chinese rule on 1 July 1997, also defended the curtailment of rights.
The establishment of the "Interim Legislature" and the proposals diminishing civil liberties were strongly criticized by the British and American governments, and by Hong Kong's governor Chris Patten, who termed China's logic "legal nonsense." Mr. Patten denounced the "Interim Legislature" as having "no legitimacy, no credibility and no authority." The New York Times reported that Hong Kong's newspapers, magazines and radio programs were swamped with editorials, letters and telephone calls denouncing China's moves ("Civil Liberty Laws of Hong Kong are repealed", New York Times, 2 February 1997).
The feelings of people in Hong Kong about the developments surrounding their city-state were expressed best by Mrs. Ida F.O. Chung, a writer whose essay "The Bell tolls for Hong Kong" was published in the Washington Post on 29 December 1996. She describes the chill descending on Hong Kong and wonder why not more people are voicing opposition to the gradual strangling of rights and the corruption creeping in from China.
State Department Human Rights Report: Active dissent wiped out in China
On 30 January 1997, the United States Department of State issued its annual Human Rights Report. This year's report strongly criticizes China for its increased repression and human rights abuses. A brief summary:
"The Chinese Government in 1996 continued to commit widespread and well-documented human rights abuses, in violation of internationally accepted norms, stemming from the authorities' intolerance of dissent, fear of unrest, and the continuing absence of laws protecting basic freedoms. All public dissent against party and government was effectively silenced by intimidation, exile, or the imposition of prison terms, administrative detention, or house arrest. No dissidents were known to be active at year's end an accomplishment even post-Stalinist Russia could not achieve.
Abuses included torture and mistreatment of prisoners, forced confessions, and arbitrary and lengthy incommunicado detention. Severe restrictions were also continued on freedom of speech, the press, assembly, association, religion, privacy (including coercive family planning), and worker rights. In minority areas such as Tibet and Xinjiang, controls on religion and other fundamental freedoms intensified. During 1996, Hong Kong's civil liberties and political institutions were threatened by restrictive measures taken by the Chinese Government in anticipation of Hong Kong's reversion to Chinese sovereignty in July of 1997."
Taiwan Communiqué comment: As shown in the developments described here, the Chinese Communist authorities in Beijing continue to have no respect whatsoever for human rights or civil liberties, whether it is their own population or the people of Tibet and Hong Kong. Their promises can thus not be trusted, and any guarantees of "One country, two systems" are utterly worthless.
We Taiwanese have no desire whatsoever to "unify" with China and consider the antiquated "One China" policies by Western countries to be anachronistic dinosaurs of the past. All who deal with these issues need to wake up to the fact that there is a new reality named "Taiwan", which has now become a free, democratic and independent nation.
This new Taiwan needs to be clearly distinguished from the old "Republic of China" regime which came over from China and occupied Taiwan. All too often even newsmedia and prominent spokesmen for Western governments blur this distinction. It is time to complete the course towards independence set in by the United Nations after World War II, and fulfill the dreams of a generation of Taiwanese to "Let Taiwan be Taiwan."
---
Back to: Table of Contents
Copyright © 1997 Taiwan Communiqué