Taiwan Communiqué No. 69, January 1996
---
The following contribution by Ms. Kristie Wang, Program Director of the Center for Taiwan International Relations (CTIR), is adapted from a speech at a Thanksgiving dinner with the Taiwanese community in the Washington, DC area. Although it will be January 1996 when this issue of Taiwan Communiqué comes off the printing press, we feel Kristie's words are timeless.
What Thanksgiving Means to Me
Friends and fellow Taiwanese. I'm very honored to be given this opportunity to speak here today. I'm especially happy to be here because this is the ninth consecutive Thanksgiving that I'm not spending with my family, and it's wonderful to be here with you, my extended family.
To be honest, at first I didn't think I would have a lot to say about what Thanksgiving means to me. But once I thought about it, I realized that the Thanksgiving holiday has special meaning for us recent immigrants to the United States because, like the pilgrims, we also came here to pursue new opportunities in a "New World." And unlike those who have been in the U.S. long enough to take it for granted, we can truly appreciate and give thanks for the freedoms and liberties upon which this country was founded.
My second realization was that part of the reason Thanksgiving has not come to mean much to me is that for the last nine years I would almost hold my breath every Thanksgiving, hoping it'll pass quickly so I won't miss my family. But don't get me wrong, I didn't spend the last nine Thanksgiving sitting alone in my room eating a peanut butter and jelly sandwich.
In fact, Thanksgiving itself means "family" to me. It means the important network that we inherited from our parents and from the high value that our Taiwanese culture places on the institution of "family."
However, since my family is on the west coast and I can't be with them on Thanksgiving, I have inherited something else from my parents that prepares me for times like these and that is, my Taiwanese culture. It is an invaluable gift I have inherited from my parents to be so far away from them and yet be able to eat something that tastes just like meals at home, to speak to someone in a language that I had always thought of as our "family language," and to be in a home that somehow, is so similar to mine. When I talk to a fellow Taiwanese, I know we already begin with many commonalities shared values, history, and heritage.
Aside from the things we Taiwanese American children have come to expect from our parents food, shelter, endless rides to piano and dance lessons, and tuition for the most expensive schools we can find I'm also thankful for my parents' positive outlook on life, which they have passed on to me. The dominant sound in my house when I was growing up was laughter. We all worked hard at what we did, but we enjoyed life and each other and we laughed.
However, there is a gift that I as a second-generation Taiwanese American inherited, not just from my parents, but from the first-generation community as a whole and that is the legacy of struggle for freedom. Your generation's inspirational dedication to our homeland and your selfless commitment to the cause of Taiwan independence is the greatest legacy that you can leave for future generations.
If some of you feel that our second generation is ignorant about your achievements and apathetic about your struggles, then you must understand that this in itself is a gift you have given us. You have helped to bring about such a dramatic transformation of Taiwan that my generation can choose not to be concerned with the political situation there. You did not have this choice.
Conversely, you have also made it possible for many of us who want to be involved with the independence movement to get involved by virtually eliminating rampant campus spying, the blacklist, political assassinations, and other practices of KMT totalitarianism.
You have made it possible for us to openly advocate Taiwan independence without fear and still return to Taiwan whenever we feel like it. You made this road safe for us to travel on. This legacy that your generation has left for my generation is one of the things I am most grateful for on this Thanksgiving.
Even if some of your children do not fully realize it now, one day they or their children may pick up a book about Taiwan's independence movement and give thanks as I do today for the role that their predecessors played in bringing it about. One of them may even find that among the heroes in the book is the name of her own mother or grandfather, aunt or uncle.
I know I am already proud to have been a part of this community, even though at times I feel I understand what British suffragist Vera Laughton Mathews meant when she said, "It's the kind of gathering where one feels a need to apologize for never having been to prison."
I have one final thing to be thankful for tonight. In the two and half years that I have been in D.C., I have had the privilege of working with and interacting with many people whose selfless dedication and tireless commitment to our cause will continue to inspire me and serve as a model for me, long after I leave my job. I couldn't even begin to name you all, beginning with those present here tonight, nor to express the impact you have had one me.
And I don't just mean the person whose name is frequently in the newspaper or who holds an elective office. I mean each of you who for 20, 30 years has given your time and energy to putting events together, attending demonstrations, writing protest letters, contributing to Taiwanese organizations, listening to hundreds of political speeches, educating others and about cause, and most of all, proudly identifying yourselves as "Taiwanese." You have done all this while finishing degrees, working full-time, and raising families. In some way, each of you has left an indelible mark on me.
As a whole, your generation has shown mine by your example that life is about more than just earning a comfortable living or maintaining a stable home life. It's about demanding fairness and justice, and when you don't get it, it's about the active pursuit of the goals you believe in.
It's about learning from those who came before you and leaving something behind for those who will come after. And most of all, you have shown me that we Taiwanese will fight at all costs to preserve our heritage, and we as a people will preserve over any hardship.
One day in the future, long after I've gone back to the West Coast to spend Thanksgivings with my family, if you ever think "what happened to that young woman who spoke at our Thanksgiving dinner one year ?" you can be sure that somewhere I am still following your example in contributing to my community, somewhere I am telling third and fourth generations of Taiwanese Americans about the inspirational people of our heritage, and somewhere I am giving sincere, infinite thanks.
Aboriginal activists sentenced to prison term
During the past few months the Kuomintang authorities have imprisoned two prominent aboriginal leaders for their role in leading a 6 June 1991 aboriginal rights demonstration. Reverend Mayau Kumu and Mr. Iciang Parod, both members of the Amis tribe, were each imprisoned for one year. Reverend Kumu has been in prison since 19 May 1995, while Mr. Parod started his prison term on 7 November 1995.
In the 1991 demonstration, some 600 aborigines came to Taipei to protest the fact that the Kuomintang authorities still insisting that they ruled all of China maintained a Mongolian and Tibetan Affairs Commission, and spent millions of dollars trying to influence these groups at home and abroad, while totally neglecting the fate of the Taiwan aborigines.
The two men were originally given suspended sentences, but because they subsequently were involved in the "Return Our Land" movement, and helped organize demonstrations in December 1993 and June 1994, the authorities revoked the suspensions. The movement started in 1988, one year after the lifting of Martial Law, in opposition against the policy of the Kuomintang authorities to increasingly allocate aboriginal lands for other purposes, such as national parks, reservoirs, mining, nuclear waste dump sites, military, university or forest bureau purposes.
The movement has been supported by the Presbyterian Church of Taiwan. Reverend Mayau Kumu is a minister in the Church, and Mr. Iciang Parod a member. Mr. Parod is also the director of the DPP's indigenous affairs committee.
The aborigines emphasize that these policies threaten their way of life and destroy their culture. The movement received international attention on 4 January 1995, when the London-based Financial Times published a major article by Laura Tyson, titled "Taiwan's Leopard People rally against reservoir." The Minority Rights Group, also London-based, published a good overview of the Taiwanese indigenous movement in its publication Outsider of April 1995.
We urge our readers to send letters to Taiwan President Lee Teng-hui, requesting him to release the two aboriginal leaders. Address: President Lee Teng-hui, Office of the President, Chungching South Road, Taipei, TAIWAN.
On 13 October 1995, Robert Cheng-lung Tsai, chairman of the U.S. chapter of the World United Formosans for Independence (WUFI), passed away at the age of 51 at his home in Houston, Texas.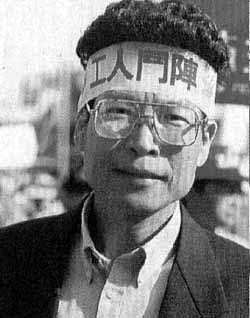 Dr. Robert Tsai
Mr. Tsai was a leading figure in the Taiwanese-American community and in the overseas independence movement. He served on the central committee of the World United Formosan for Independence for over a decade. In 1994, he was elected to lead the U.S. Chapter of this major pro-independence organization.
Although he was on kidney dialysis and his health was failing in recent years, a strong sense of mission compelled him to continue working and traveling around the country to rally support from the Taiwanese community in the United States for an independent Taiwan. In his final year, he was also very active in promoting research into a written form of the Taiwanese language.
In 1981, he helped to expose the activities of KMT spies on campuses of American universities when he testified in a congressional hearing to investigate the murder of Prof. Chen Wen-chen, who was a victim of campus spying. Prof. Chen, a Taiwanese-American, was visiting his parents in Taipei, when he was called in for questioning by the Taiwan Garrison Command about his activities in Carnegie-Mellon University. On the next day he was found dead on the campus of National Taiwan University.
Mr. Tsai was born in Taichung, Taiwan. After graduating from National Taiwan University with a Bachelor's degree in mechanical engineering, he came to the United States for graduate studies and received a Ph.D. degree from Carnegie-Mellon University. He is survived by his wife, Yeh Ming-shia and two daughters.
---
Back to: Table of Contents
Copyright © 1996 Taiwan Communiqué