Taiwan Communiqué No. 103 December 2002
---
First Lady Wu goes to Washington
From 19 through 29 September 2002, Taiwan's First Lady Wu Shu-chen made a triumphant tour through the United States, culminating in a visit to Washington DC. It was the first time that the wife of Taiwan's president made such a trip in more than several decades, and a clear sign of warming relations between Taiwan and the United States.
Mrs. Wu is wheelchair-bound after a 1985 accident in the southern city of Tainan, when a truck drove into her while she was accompanying her husband during a tour to thank the people in Tainan for their support during the just-ended election campaign. There were strong indications that the accident was politically inspired by the then-ruling Kuomintang.
"Dream the impossible dream"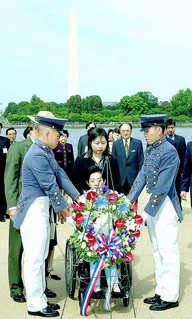 Wu Shu-chen at the Jefferson Memorial in Wasahington
She landed in Seattle on 19 September 2002, and was made an honorary citizen of Washington State by Governor Gary Locke, who is of Asian descent himself. From there she continued to New York City where she gave a speech at the National Arts Club. In her address, she urged the world's democracies to support Taiwan's quest to
enter the United Nations. She said: "Taiwan will not give up, just as Welly Young said in his song (referring to the song "Dream the impossible dream", which had just been sung by Taiwanese-American Broadway singer Welly Young). Even though many people consider this impossible, we will not give up, and one day we will make the impossible possible."
She continued on to Washington DC, where she met a number of Senators and Congressmen at a luncheon at Taiwan's Twin Oaks residence, and gave a speech at the American Enterprise Institute, one of Washington's leading think tanks. In the speech she said: "We believe that Taiwan is a free and democratic country which respects human rights. There is no reason for us to be excluded from the community of nations. I have confidence that our ongoing effort will enable us to obtain our deserved representation. I also believe it would give us the opportunity to contribute and to play out our responsibility as a member of the global village."
Senator John Rockefeller of West Virginia, who attended the dinner, remarked "there is no better reflection of today's Taiwan than this dedicated woman who embodies so many of the positive changes that have occurred on the island."
The US House of Representatives passed a special resolution, warmly welcoming Mrs. Wu to Washington. It was passed unanimously 410-0. The resolution praised Wu as being "one of the main forces behind Taiwan's charity and humanitarian assistance for the victims of the terrorist attacks."
One of the main sponsors of the resolution, Benjamin Gilman of New York, emphasized Taiwan's right to be a full member of the international community. He said, "Self-determination is a right that the Taiwanese should not be deprived of, and it is in our interest to demand that communist China immediately stop threatening Taiwan when its leaders simply state a fact of truth: Taiwan is independent and it should be a full-fledged member of the United Nations."
In Washington, Mrs. Wu also laid a wreath at the Jefferson Memorial. She then flew on to Los Angeles, where she hosted a banquet attended by some 1200 Taiwanese-Americans living in the LA area, and returned to Taiwan on 29 September 2002.
Wu best spokesperson for Taiwan
This editorial appeared in the Taipei Times on 22 September 2002. Reprinted with permission.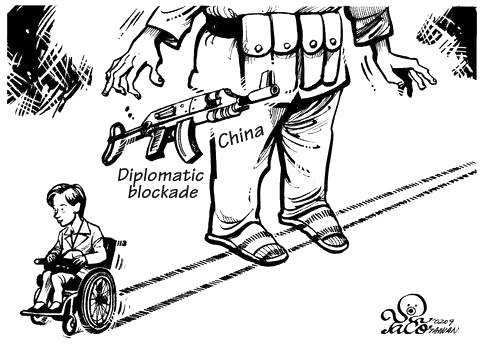 Unlike her predecessors, Taiwan's first lady Wu Shu-chen is much more than just an alter ego or accessory of her husband, President Chen Shui-bian. Not only has she made her own contributions to Taiwan's democratization, but she has in fact been a very important part of Chen's political success. She is therefore a most suitable candidate to promote Taiwan's accomplishments in democracy and human rights and to help strengthen cultural and social ties between the US and Taiwan.
Wu is immensely popular in Taiwan. Reportedly, Chen once admitted in private that he could thank his wife for about 50 percent of the votes he garnered in all the elections he had entered. Moreover, according to a survey published by the China Times on Sept. 14, more than 60 percent of the interviewees approved of Wu's performance.
This popularity has much do with Wu's down-to-earth and witty personality, which ordinary people in Taiwan can identify with. For example, like any other wife poking fun at her husband, Wu has not only joked about Chen's weight problem in public, but also threatened to run for the presidency herself if Chen ever dared take a mistress.
On the other hand, she is also respected for her courage and endurance in times of hardship. Despite physical handicap, the wheelchair-bound Wu was elected a legislator while her husband was in jail. After Chen's release, he worked as her aide. Wu is probably the only first lady who has had her husband working for her. Wu's experience in overcoming trials and tribulations further enhances her standing as a spokesperson for Taiwan's battle to win international recognition and join the international community.
Wu's visit to the US affirms the emergence of a new model of diplomacy for Taiwan, which began to take shape when she traveled to France to accept the Prize for Freedom on behalf of Chen and visited the Czech Republic at the invitation of Czech first lady Dagmar Weskrnova. Facing a diplomatic blockade by China, Taiwan is unable to conduct foreign relations through regular diplomatic channels. As a result, neither Chen nor Vice President Annette Lu are able to obtain visas to travel to most countries. They have become prisoners confined to Taiwan. Under the circumstances, the first lady is an ideal substitute spokesperson for Taiwan.
Unrestrained by any official government post, she enjoys much more freedom and latitude in terms of places she can travel to and topics she can address. In particular, she can promote the rights of disadvantaged groups, such as women and children in developing countries and the physically handicapped. These activities will not only help enhance Taiwan's visibility, but also strengthen unofficial ties with other countries.
Wu's US visit also highlights the George W. Bush administration's friendliness toward Taiwan even after Chen's recent "one country on each side" comments. At least two things reinforce this observation. First, Chinese President Jiang Zemin is scheduled to visit the US next month. So, the timing of Wu's visit can be fairly described as sensitive. Second, Wu's visit is the most recent of several visits to the US by top Taiwanese officials, including Premier Yu Shyi-kun and Minister of National Defense Tang Yao-ming.
Under the circumstances, all the people of Taiwan should view Wu's visit with excitement and pride. Stop all the malicious and groundless attacks.
---
Back to: Table of Contents
Copyright © 2002 Taiwan Communiqué