Taiwan Communiqué No. 103 December 2002
---
Lee Ying-yuan for Mayor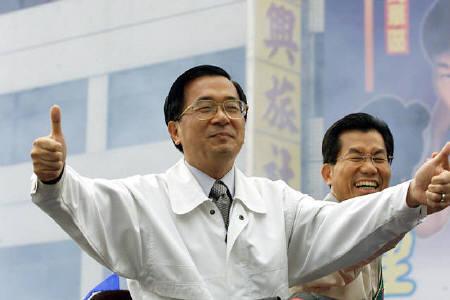 Mayoral candidate Lee Ying-yuan (R) together with president Chen Shui-bian
On 7 December 2002, elections are being held in Taiwan for a number of local offices. The most important race is the one for mayor of the capital Taipei, where DPP candidate Lee Ying-yuan is running against incumbent mayor Ma Ying-jeou. The race has a number of interesting twists and turns, and will have important implications for the future.
The two candidates have some similarities, but more important differences. Both are intellectuals at around 50 years of age, and both received degrees from Harvard University. But Mr. Ma is a mainlander, who was one of the upcoming "golden boys" when the Kuomintang was in power. In 1998 he won the Taipei mayorship by defeating then-incumbent Chen Shui-bian. Mr. Lee is a native Taiwanese, who became active in the democracy movement during his studies in the US, and was imprisoned for his political beliefs upon his return to Taiwan.
Mr. Ma has the advantage of being the incumbent, and the fact that the some 40% mainlanders in Taipei give him a cast-iron power base. His "good-looks" popularity and the fact that he is the darling of the mainlander-dominated media also give him the edge.
But Mr. Lee has been catching up fast. His cheerful, easy-going personality, his hard-working wife Laura, and his dedicated campaign staff have helped him reduce the gap with Mr. Ma. Also important are the strong support from President Chen himself, and from former President Lee Teng-hui, who in 1998 _ when he was still President _ supported Mr. Ma.
Still it is an uphill battle for Lee. If he wins this will be a major victory for the ruling DPP. However, this will free time and resources for Mr. Ma in the upcoming Presidential election campaign in 2004: Many mainlanders see the flamboyant Mr. Ma as the only way in which they can defeat President Chen Shui-bian.
Lee: from dissident to diplomat
The 49-years old Dr. Lee was born in Yunlin County, grew up in Taiwan, and earned his degree in public health at National Taiwan University. In the late 1970s, he went to the US for advanced studies in health policy and management, received his master's degree from Harvard University and his Ph.D. in health economics from the University of North Carolina.
In 1988 and 1989 he and his wife received teaching appointments from National Taiwan University, but the Kuomintang authorities refused them entry to their homeland because of their political activities while studying in the US. "I had applied 13 times during two years for permission to return to my homeland ... but to no avail," Lee recalled.
In June 1990, he did return, but under cover, as part of a plan by the US-based World United Formosans for Independence to move its headquarters back to the island. During the following 14 months, Lee played a cat-and-mouse game with secret police agents around the island. He never visited a public place more than once and he used makeup to cover an obvious mole on his right cheek. To challenge the authorities, he even took a picture of himself in front of the presidential office. And Lee always carried a razor, a toothbrush and toothpaste with him in case he was imprisoned.
Eventually, he was arrested in September 1991, and _ together with three other major independence advocates _ charged with sedition under the anachronistic Article 100 of the Criminal Code. In early 1992, they appeared in separate court sessions, where trumped-up charges were leveled against them, but after strong pressure from the international community and from within Taiwan itself, they were finally released on 23 May 1992.
In 1995 Dr. Lee ran for a seat in the Legislative Yuan from Taipei County and won, becoming a key member of the then-opposition DPP, focusing on foreign affairs.
Ma Ying-jeou's murky past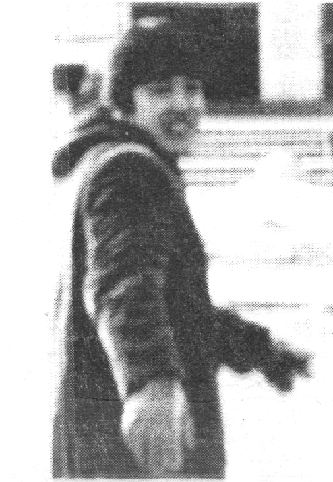 Ma Ying-jeou as student-spy
The incumbent mayor, Mr. Ma Ying-jeou, has a past that is just the opposite of Mr. Lee's. Mr. Ma was born with a silver spoon in his mouth as the son of a Hong Kong-based high Kuomintang official. In the early 1950s, the older Ma followed Chiang Kai-shek to Taiwan, and Ma Jr. grew up as part of the political elite on the island.
In the 1970s, he went to the US to study political science, also at Harvard University. But unlike Lee, who became active in the overseas democratic movement, Ma remained a staunch supporter of the repressive Kuomintang regime. Students who were at Harvard during the same time as Ma say that he was a "student spy", a familiar phenomenon in those days: the ruling Kuomintang recruited "loyal" students to infiltrate student groups and to spy on others, reporting their political activities to the secret police organizations back in Taiwan.
Mr. Ma was rewarded handsomely for his loyalty: after his return to Taiwan he soon became personal secretary to then-President Chiang Ching-kuo, and by 1985, he was deputy secretary-general of the KMT party. As late as 1986, he was still strongly defending the martial law, which was still in force at that time, and the imprisonment of major opposition leaders following the 1979 "Kaohsiung Incident."
He subsequently rose through the party ranks, and in the 1990s served as justice minister under President Lee Teng-hui. In 1998, he ran against then-mayor Chen Shui-bian and won with 51% of the vote.
However, his management of the city has been weak at best: statistics show that in particular crime rose by 50% between 1999 and 2001. Also, prostitution rose significantly during his tenure, while corruption among police became a major concern.
---
Back to: Table of Contents
Copyright © 2002 Taiwan Communiqué