Taiwan Communiqué No. 100, February 2002
---
A new "fighting cabinet"
Mr. Yu Shyi-kun becomes Prime Minister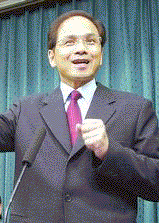 On 21 January 2002, President Chen Shui-bian announced in Taipei that the new Cabinet would be led by Mr. Yu Shyi-kun, secretary-general of the Presidential Office. During the subsequent days, the new Prime Minister announced his new Cabinet line-up (see article below), and the Cabinet took office on 1 February 2002.
Mr. Yu is a veteran DPP leader, who gained his political and administrative experience through his membership in the Provincial Assembly in the 1980s and as County Magistrate of Ilan County -- on the Eastern seaboard of Taiwan -- from 1989 through 1997. He was able to turn the county into a showcase of clean and effective government.
When Chen was elected President in March 2000, Mr. Yu became vice-premier in the first Cabinet -- under Mr. Tang Fei -- but resigned in July 2000, taking political responsibility for the Pachang Creek incident, when four workers perished in front of TV camera's after rescue helicopters failed to show up due to administrative bungling of local officials.
In October 2000, Mr. Yu was appointed secretary-general to the president, paving the way for his re-emergence in the Chen government. Mr. Yu is an effective and able administrator, who has proven himself as a man who gets things done.
In his inaugural address on 1 February 2002, he gave an indication of his long-term vision when he stated: "Our final goal is to build a new country and society, just as I worked to build a new Ilan County. There is not only the beautiful island of Formosa, but also the pride of the people and their government that joins the environment, humanities, and economy to create a new civilization."
The new Cabinet line-up
Immediately after his appointment, Mr. Yu started to announce the members of his new cabinet, retaining effective members of the previous cabinet, such as Minister of Economic Affairs Lin Hsin-yi -- who will hold the position of vice-premier -- and Mainland Affairs Council chairwoman Tsai Ying-wen and Overseas Taiwanese Affairs Commissioner Mrs. Chang Fu-mei.
Foreign Affairs Minister Tien Hung-mao, who was generally considered ineffective, was replaced by deputy secretary-general to the President Eugene Chen, while Prof. Kao Ying-mao, who served at the National Security Council, was appointed deputy Foreign Minister. The two are expected to show more leadership and vision in foreign affairs, while being more aggressive in weeding out the deadwood at the Foreign Ministry left over from the KMT era.
Another minister who didn't survive the shuffle was Ovid Tzeng, who made himself unpopular by blocking reforms and taiwanization of textbooks in the educational system. He also continued to push Hanyu Pinyin romanization — a system used in China — even though the government had opted for the homegrown Tongyong Pinyin system. He is being replaced by Mr. Huang Jung-tsun, currently a minister without portfolio.
At the Defense Ministry, chief of general staff Tang Yao-ming was promoted to be the defense minister, the first native Taiwanese to hold that position: under the previous KMT regime that post was always reserved for a Chinese mainlander.
At the Justice Ministry, Mr. Chen Ting-nan -- who had led the fight against corruption and "black gold" -- retained his position, leading to a welcome continuation of the Chen Administration's policies in that area.
Labor Affairs Commissioner Mrs. Chen Chü retained her position, as did Mrs. Tchen Yu-chiou, the chairwoman of the Council for Cultural Affairs, an accomplished concert pianist who had done much to regenerate Taiwanese arts and culture. Mrs. Tchen's late husband, legislator Lü Hsiu-yi, was one of the founding members of Taiwan's democratic movement.
In the economic/financial area, Mr. Yu asked Mrs. Christine Tsung to be Taiwan's first female minister of economic affairs, while the chairman of Taiwan's Banks' Association was asked to lead the Finance Ministry. The choices led to an immediate upturn of Taiwan's stock market.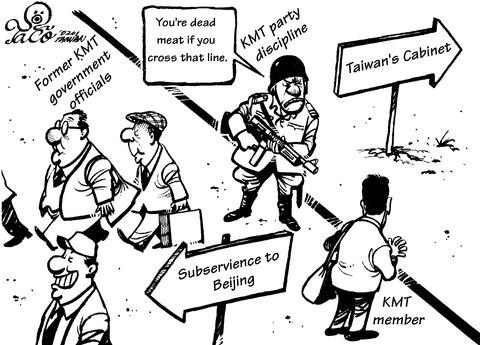 KMT party, while allowing members to visit China in droves: "You're dead when you cross that line (towards the Taiwan cabinet)."
Interestingly, several of the new appointees, including defense minister Tang, Council of Aboriginal Affairs chairman-designate Chen Chien-nien as well as Yang Teh-chih, who was re-appointed chairman of the Veterans' Affairs Commission are still members of the Kuomintang. In a decision on 22 January 2002, the KMT announced that any of its members joining the cabinet "will face disciplinary action." The persons involved said they would go ahead and fill their positions in the cabinet anyway.
An influential person in the immediate surroundings of the President will be newly appointed Dr. Chen Shih-meng, now deputy governor of Taiwan's Central Bank, who will fill the position of secretary-general to the president. Together with the newly-appointed Cabinet secretary-general Dr. Lee Ying-yuan _ who served until recently as deputy representative in Washington _ he will have an important role in shaping the policy of the new cabinet.
Both Chen and Lee played key roles in Taiwan's transition to democracy in the late 1980s and early 1990s, but came from very different backgrounds: Chen is the descendant of Chinese mainlanders, who became an early advocate of political reforms and Taiwan independence. Dr. Lee is a native Taiwanese who went to study in the United States and became active in the overseas Taiwanese movement. He returned in 1989, was arrested together with other political activists and imprisoned. In subsequent years he was elected to the legislature and -- upon President Chen's election in 2000 -- was sent to serve in Washington.
---
Back to: Table of Contents
Copyright © 2002 Taiwan Communiqué