Friday, Dec. 01, 2006
With its ranks in disarray and its President embroiled in scandal, Taiwan's ruling Democratic Progressive Party is pinning its hopes on next week's heated mayoral election in the southern city of Kaohsiung
By Austin Ramzy / Kaohsiung
---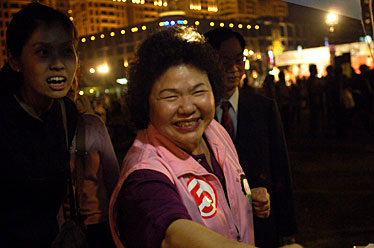 To the boom of fireworks and the blare of high-volume slogans from a pair of loudspeaker trucks, Chen Chu storms into the Chukuang Market. Her curly afro is clearly visible in front of her two dozen supporters as she plows past the rows of parked scooters, the squid cooking on outdoor grills, and the children riding in circles on a miniature electric train. Chen, 56, a veteran activist and former political prisoner, is running for mayor of Taiwan's second-largest city, Kaohsiung—and tonight she appears intent on shaking the hand of every hotpot eater, bra seller and pachinko player in this small outdoor market.
She'll need to. Chen's Democratic Progressive Party (DPP) has occupied the mayor's office in this port city for the past eight years, and as her party's candidate Chen would normally be the odds-on favorite to take the position. But these are not normal times. The DPP is under siege. Its top elected official, President Chen Shui-bian, has been under pressure to resign ever since his wife, Wu Shu-chen, was indicted on Nov. 3 on embezzlement and forgery charges. Prosecutors said they have evidence to charge President Chen too, but he enjoys immunity while in office. The scandal has raised questions about long-term damage to the President's party. Politicians and analysts are looking to the Dec. 9 mayoral elections in Taipei and Kaohsiung for an indication of how badly the DPP has been wounded, and whether the party's problems could carry on to legislative elections next year and the presidential vote in 2008. "If the DPP could pull it out in either one of those races people would say, 'See, it's not completely over for the DPP, they still have some support and they haven't completely lost their mojo,'" says Shelley Rigger, an expert on Taiwan at Davidson College in North Carolina. "If they lose both, their mojo will be indeed very hard to see. They were clobbered in local elections last year. If they lose these two big cities, that's going to be evidence that the public has really turned against them."
With Taipei likely to remain a stronghold of the opposition Kuomintang (KMT), the DPP's hopes ride on Kaohsiung. The city, the world's sixth busiest port, is in southern Taiwan, the DPP's traditional power base, where voters back the party's support for Taiwanese nationalism. But unlike more rural parts of the south, DPP support in Kaohsiung is uneven. While the DPP's Frank Hsieh won mayoral elections in 1998 and 2002, his KMT challenger in the last race, a 64-year-old former university administrator and onetime deputy mayor named Huang Jun-ying, nearly handed him an upset. This year, Huang is back, with a campaign emphasizing economic development and clean government. Hsieh isn't: he cannot seek another term in Kaohsiung and is pursuing the Taipei mayoral seat instead. Polls show KMT candidate Huang leading Chen Chu by about three to nine percentage points.
Though Chen trails in the race, she is in many ways the more charismatic candidate. A founding member of the DPP, she spent six years in prison for her participation in a pivotal 1979 pro-democracy protest against the then-ruling Kuomintang which came to be known as the Kaohsiung Incident. She is a fiery speaker, and can easily attract hundreds of supporters to public rallies. And she's running a campaign that emphasizes her ties to Hsieh's powerful legacy—her supporters carry signs that say, "Good baton, pass it on." During his six years in office Hsieh led a major cleanup of Kaohsiung's Love River, turning the polluted waterway that runs through the heart of the city into a regional attraction that even Huang acknowledges is a success.
But the DPP's rule in Kaohsiung comes with some baggage. Last year migrant Thai workers on a Kaohsiung mass transit project rioted over poor working conditions; a subsequent investigation led to the indictment of DPP city officials and a former presidential aide on charges of accepting bribes. Chen Chu, Taiwan's labor minister at the time, was not linked to the corruption scandal, but she resigned to take responsibility for the treatment of the Thai workers. And the allegations of corruption against those close to the President are causing the DPP even bigger headaches. "The day of the [First Lady's] indictment was the worst point in the party's history," says Bi-khim Hsiao, a DPP legislator and former adviser to the President.
Thus far President Chen has been able to maintain the backing of his party's lawmakers. On Nov. 24 they blocked a third effort by the KMT to pass a measure to recall the president, which would have triggered a national referendum on his removal from office. But while the DPP is rallying around Chen in the legislature, the party's candidates are avoiding him. In Kaohsiung, images of the president that were ubiquitous on local campaign posters in past elections are now hard to find. On the morning of Chen Chu's visit to the Chukuang Market, the president came to town to visit a new shopping mall under construction. Somehow Chen Chu missed the photo opportunity, which she blamed on a scheduling error. "We are very welcoming of the president," she says, "but we have to do it when it's well-planned." She acknowledges President Chen's woes are hurting her chances. "If it weren't for these problems, I wouldn't have any trouble in this election," she says. "[The scandal] will influence the middle-of-the-road voters."
Unfortunately for Chen Chu, that's exactly who the party needs in order to win. When the DPP was formed 20 years ago, it built its support on two key groups: native Taiwanese slighted by a KMT leadership still focused on its erstwhile homeland across the strait, and urban workers angered by the KMT's legacy of cronyism and corruption. While Taiwan-independence backers are likely to stick with the DPP through a corruption scandal, their numbers aren't great enough to automatically hand the party an election. The DPP "still depends on middle-class intellectuals who think that clean politics are important," says Lin Jih-wen, an associate research fellow at the Institute of Political Science at Academia Sinica, a government-sponsored research institution in Taipei. Right now, those voters may not know where to turn. The indictment against the First Lady was followed by similar accusations of corruption against the KMT leader and outgoing Taipei Mayor Ma Ying-jeou, who admitted last month that an aide had switched receipts when tallying mayoral expenses. Prosecutors have also questioned Ma over expense money that he says went to charitable donations, but which his adversaries have accused him of pocketing.
Having Ma's woes dominate headlines has relieved some of the political pressure on President Chen. But while Ma's reputation—and his expected bid for president in 2008—may suffer, the accusations against him are likely to have a lesser impact on his party given its old reputation for corruption. And the scandals surrounding Chen have cost the DPP its "ace in the hole," says Rigger. "Now the DPP has to fight on even footing with the KMT on that which has been their winning issue."
One person they'll be fighting over is Huang Tai-lang, a 35-year-old factory manager watching Chen Chu's procession through Kaohsiung's night market. Four years ago he voted for the DPP's Hsieh. This year, he's not sure that he'll support the party again. "In the past, I thought they were clean," he says. "Now that they're in power, the results haven't been great." If Chen Chu wants to win—and if the DPP wants to hang on to power—Huang is the kind of voter she'll need to convince.
With reporting by Natalie Tso/Kaohsiung