Saturday, May 12, 2001
---
Reuters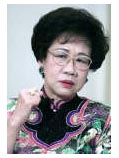 Taiwan Vice president Annette Lu: "China must dismantle missiles aimed at the island and abandon invasion threats."
Taiwan Vice President Annette Lu on Saturday called on China to dismantle hundreds of missiles she said were ranged against the island, declaring that the Chinese lion must be "de-clawed".
"Taiwan is like a rabbit or a cat, a kitten. China is a big lion," the island's first woman vice president told Reuters in an interview. She urged China's Communist rulers to clear its eastern coast of some 300-500 missiles. China has threatened to attack Taiwan if it formally declares independence or drags its feet on unification talks.
As the Communists took over China half a century ago, rival Nationalists took refuge on Taiwan and declared theirs to be China's rightful government. The island has governed itself since as a separate state, but Beijing considers it a renegade province.
"Everybody knows the result when one lets a kitten embrace a lion unless the lion is de-clawed and de-fanged," said Lu. "It must abandon (threats) to use force against Taiwan and dismantle missiles," added the vice president, reviled by Beijing for her pro-independence stand.
With 100 million people living below the poverty line, China would be better off spending money on poverty alleviation than on missile deployment, Lu said.
She poured cold water on an overture by former Taiwan premier Vincent Siew for the island and China to establish a common market as part of reconciliation efforts. "The timing is not right. The conditions are not ripe," the 56-year-old vice president said. "The mainland harbours malicious intentions."
SMILE OFFENSIVE
She said China had tried to lure Taiwan investment and tourists with a "smile offensive" while at the same time stepping up military deployment in coastal provinces. Siew, a vice-chairman of Taiwan's main opposition Nationalist Party, is currently visiting China to try to win Chinese leaders over to his idea of establishing a regional common market.
"Discussion of a common market is a real joke," said Lu, a pioneer of Taiwan's women's movement and a prolific writer on feminism.
Taiwan investors have poured up to US$60 billion into China since rapprochement began in the late 1980s, lured by low land and labour costs as well as a common language and culture.
But Taiwan investments in China have no legal protection because of simmering political tension. Taiwan still restricts investment in strategic industries in China and bans direct trade and transport links on national security grounds.
Lu and President Chen Shui-bian of the pro-independence Democratic Progressive Party swept to power last year, alarming Beijing, which has repeatedly threatened to attack the island if it declares statehood.
Chen switched gears soon after his election calling for reconciliation and cooperation with China, but Lu remained on the battle lines, riling Beijing.
Bilateral ties have been at a stalemate since 1999 when Beijing suspended dialogue, angered when President Lee Teng-hui called for political parity by redefining bilateral ties as "special state to state" relations.
Ties between Taiwan and China became touchier after U.S. President George W. Bush recently offered to arm the island with submarines and destroyers and help defend it against China.
Some respected American China-watchers have broached the idea of fashioning a "fourth communique" -- a formal agreement that would build on, or maybe even replace, three earlier accords that form the basis of modern U.S.-Chinese ties.
Lu said any negotiations between Beijing and Washington on Taiwan should have the island's "full and fair participation". Any change to the island's status quo with China must be made by the people of Taiwan through democratic means, said Lu, who was jailed for five years on sedition charges for her role in a pro-democracy protest which turned violent -- a landmark episode in Taiwan's democratisation.