April 28, 2004
By Joseph Kahn
---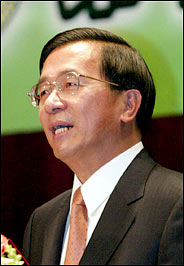 Taipei -- President Chen Shui-bian of Taiwan is pressing the Bush administration to approve his plans to change the island's Constitution, casting the United States as an intermediary in the most delicate issue dividing China and Taiwan, Taiwanese officials said Tuesday.
While Bush administration officials say they do not want to get deeply involved in brokering relations between China and Taiwan, the overture shows how instrumental American mediation has become in preventing tense relations across the Taiwan Strait from deteriorating into armed conflict.
Mr. Chen sent Chiou I-Jen, the secretary general of the presidential office, to Washington this week to outline changes he plans to make to the Constitution during his second term in office, the officials said. If Taiwan gets the blessing it seeks, Mr. Chen may make constitutional change a centerpiece of his inaugural address on May 20, they said.
The effort puts the Bush administration in a delicate position. It is focused on pacifying Iraq and fighting terrorism, and is relying on Chinese help to defuse the North Korean nuclear crisis. American officials have been pressuring Mr. Chen to refrain from provoking China since he narrowly won re-election in March.
Yet Taiwan's supporters in Congress and some neoconservative thinkers in Washington are also urging the administration to offer greater support to the island, which they view as a democracy under threat from China's Communist Party-controlled military.
In the shrouds of doctrine that set the terms of the relationship between the United States, China and Taiwan, China views changing Taiwan's Constitution, drafted when Taiwan's Nationalist Party governed mainland China before 1949, as a cover for formalizing Taiwan's independence. China says it will fight to prevent that from happening.
Mr. Chen hopes to persuade the United States that his proposal for changing the Constitution will focus on the legal framework of Taiwan's central government and its legislature, which he argues must be overhauled because it is irrelevant and ineffective in present-day Taiwan.
But Taiwanese officials said Mr. Chen will pledge not to change Taiwan's official name, the Republic of China. He will also promise to keep the red-and-blue flag of the Republic of China and refrain from rewriting references to the territory Taiwan claims as its own. Those are among the most sensitive issues that China sees as symbolizing Taiwan's national status and maintaining its links to the mainland.
Mr. Chiou will present the scope of the constitutional reform plans and the assurances about the areas Mr. Chen vows to retain during his visit to Washington, the officials said on condition that they not be named.
"It is our desire to be very careful and not be provocative about this," said a senior aide to Mr. Chen in a telephone interview. "It is not something we will rush into until we have the full understanding and support of the U.S."
Mr. Chiou may also broach a plan by Mr. Chen to create a council on cross-strait development that could serve as a forum for dialogue between China and Taiwan, a response to repeated American appeals that the two sides begin talking to one another directly.
While Taiwanese officials present Mr. Chen's plans as conciliatory, Chinese analysts say they fear that any constitutional reform in Taiwan could easily lead to a direct challenge to the mainland. They say Mr. Chen has not lived up to pledges he has made in the past to improve ties with China.
Moreover, Mr. Chen is not expected to detail how he wants to overhaul the Constitution until after legislative elections in December.
Mr. Chen has made modernizing the Constitution the main goal of his second term. He says that his primary concern is fixing outdated clauses that hinder the functioning of government.
But opposition leaders say improving the document does not require the broad rewriting Mr. Chen favors. They say they fear that he mainly wants to redefine Taiwan's political status and its relations with the mainland.
President Bush said last December, with Prime Minister Wen Jiabao of China at his side, that he opposed any unilateral action by either Taiwan or China to "change the status quo" in cross-strait relations. Bush administration officials have yet to declare whether they view constitutional changes as upsetting the status quo.
Although the administration maintains publicly that it has no intention of negotiating the details of the China-Taiwan relationship, a senior administration official acknowledged in a recent interview that it has little choice but to stay fully engaged at a time when tensions are high.
"I would not say that we have become an intermediary, but it is fair to say that we are fully seized with the issue," the senior official said. "We need to create an environment that is conducive to dialogue, which is not to say that everything will run through Washington."
Yet Taiwan, and even China, which long urged the United States to stay out of a matter it views as an internal affair, now see Washington as the key. Both have solicited the Bush administration's support for their positions and scrutinized nuances in statements by President Bush and top administration officials for signs of shifting sentiment.