Israel calls off China AWACS deal
Washington, 12 July 2000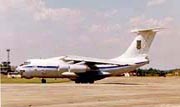 Israel is suspending the controversial sale of a Phalcon AWACS radar system mounted on a Russian-built Ilyushin aircraft, which would have enabled China to threaten and attack Taiwanese and American aircraft over the Taiwan Strait.
According to press reports in the Washington Post, Israeli officals made the announcement at Camp David in Maryland, where Prime Minister Ehud Barak and Palestinian leader Yassar Arafat are meeting at the invitation of president Clinton to hammer out a MidEast peace accord.
The potential sale by Israel to China had alarmed both Taiwan and the United States, since the sale was reportedly the first of a series of four or even eight, which would in due time enable China to gain air superiority over the Taiwan Strait.
Since November 1999, US Congress, the Clinton Administration, and the Taiwanese-American community have expressed their concern to the Israeli government on the detrimental effects of such a military sale to a belligerent China that is threatening its neighbors.
An overview of the concerns can be found in Taiwan Communiqué no.'s 89, Israeli sale of long range radar to China, 91, Caught between principle and greed and 92, The Israeli Phalcon AWACS sale.