6-28 Rally in Washington DC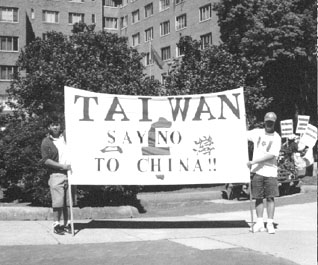 To show its support for the June 28th rally in Taipei, the Taiwanese-American community held a rally in front of the Chinese embassy in Washington DC. Some 200 Taiwanese-Americans attended. One group drove 12 hours all the way from Atlanta, Georgia to join the gathering. Others came from surrounding states such as Virginia, Delaware and Maryland.
The gathering started at ten o'clock with speeches from local and national Taiwanese-American leaders, such as Mr. C.K. Kuo, the president of the Taiwanese Association of America.
In the speeches it was emphasized that Taiwan is not equal to Hong Kong, and that the Taiwanese want a free, democratic and independent Taiwan.
The rally program also included singing, accompanied by the choir of a local Taiwanese Presbyterian Church, with Taiwanese songs and American Freedom songs such as "We shall Overcome."
The cheers at the rally included "Say No to China, Say Yes to Taiwan", "One Taiwan, One China", "Taiwan Independence", "China, hands off Taiwan", and "Let Taiwan be Taiwan."
Mr. Kuo addressing the crowd

---

"Say YES to Taiwan"

---

"Recognize Taiwan Independence"

"Taiwan not equal to Hong Kong"