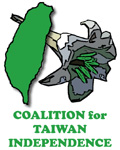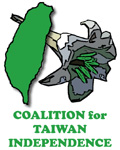 Say "YES" to Taiwan
March on Washington
On Wednesday, 29 October 1997, nearly one thousand Taiwanese Americans from all across the country converged on Washington, D.C. in protest against the red carpet treatment which Mr. Clinton was giving Chinese President Jiang Zemin. The gathering was organized by the Coalition for Taiwan Independence, an umbrella-group for some 20 Taiwanese-American organizations.
---
Gathering at the Washington Monument
They first gathered at the Washington Monument on the Mall, where several speakers from the Taiwanese-American community and representatives from Taiwan appealed to President Clinton and the U.S. Congress to stand up for Taiwan's right to be a full and equal member of the international community. Some images from the opening gathering at the Monument:
Young supporters of Taiwan independence
---
March around the White House
The crowd then wound its way around the White House just after the Jiang-Clinton ceremony on the White House lawn. At Lafayette Park they met up with the Tibetans and Amnesty International supporters preparing for their own gathering, and passed by a group of Chinese human rights activists sitting next to the Old Executive Office Building. Along the way, they chanted "One Taiwan, One China", "China, hands off Taiwan", "China, out of Tibet", "Recognize Taiwan, Taiwan Independence", and "Shame on China."
Taiwan Independence flag above the White House
"One Taiwan, One China" in front of the White House
---
To Capitol Hill
After further speeches and lunch at the National Monument, the crown moved in a mile-long procession to Capitol Hill. They gathered on the steps of the U.S. Capitol Hill, overlooking the Mall, and in the distance the symbol of American independence, the Washington Monument. There they heard speeches from a bipartisan group of Senators and Congressmen, among whom U.S. Senator Robert Torricelli (D-NJ), Congresswoman Linda Smith (R-WA), and Representatives Robert Andrews (D-NJ), Pete sessions (R-TX), Sherrod Brown (D-OH), Peter Deutsch (D-FL), J.C. Watts (R-OK), and Sam Johnson (R-TX).
Crowd in front of Capitol Hill
Congresswoman Linda Smith: "Taiwan is a friend, Taiwan is independent -- we will not accept agression of any kind against our friend ."
Congressman Sherrod Brown: "The outdated and unrealistic policy of "One China" should be jettisoned, and Taiwanese membership in the United Nations supported." Read the full speech of Congressman Brown..
Congressman Peter Deutsch: "Accept Taiwan as a free and independent nation."
Senator Robert Torricelli: "The people of Taiwan exist, therefore they are."
---
To the Chinese Embassy
At 4:30 p.m., the crowd reassembled in front of the Chinese embassy on Connecticut Avenue to express their outrage to the Chinese representatives. They demanded that China leave Taiwan alone, and accept Taiwan as a free, democratic, and independent nation.
Taiwanese in front of Chinese Embassy

---
Back to: Taiwan News and Current Events page
Last updated on 30 October 1997
---